Are you looking for a new Wilson racquet for your game? Let's find the Wilson clash vs. blade vs. ultra which is right for you. Selecting the racquet that will work best for your playing style is significant. Wilson is a well-known brand that provides a variety of high-quality racquets. The Clash, Blade, and Ultra series are a few of their well-liked releases.
Wilson Clash vs. Blade vs. Ultra in 2023
Players must select the ideal racquet to maximize their performance because of qualities that appeal to various playing styles. Those who value comfort and control use the Clash racquet series, whereas those who value accuracy and feel should use the Blade series.
For players who prefer a balance between power and control, the Ultra series is ideal. To assist you in selecting the Wilson racquet that is perfect for your game, I'll delve deeper into each series. Let's get started.
Specification:
| | | | |
| --- | --- | --- | --- |
| Features | Wilson Ultra 100 | Wilson Clash | Wilson Blade |
| Head Size | 100 Inch | 100 Inch | 100 Inch |
| Length | 27in | 27 Inch | 27 Inch |
| Strung Weight | 316g (11.10z) | 312g (11. ooz) | 312g (11. oz) |
| Balance | 4 pts HL | 7 Pts. HL | 5 Pts. HL |
| Swingweight | 300g | 313g | 317g |
| Stiffness | 73 | 57 | 61 |
| Beam Width | 24.5mm — 26mm — 23.5mm | 24.5mm | 21 mm |
Wilson Clash:
Amazon Choice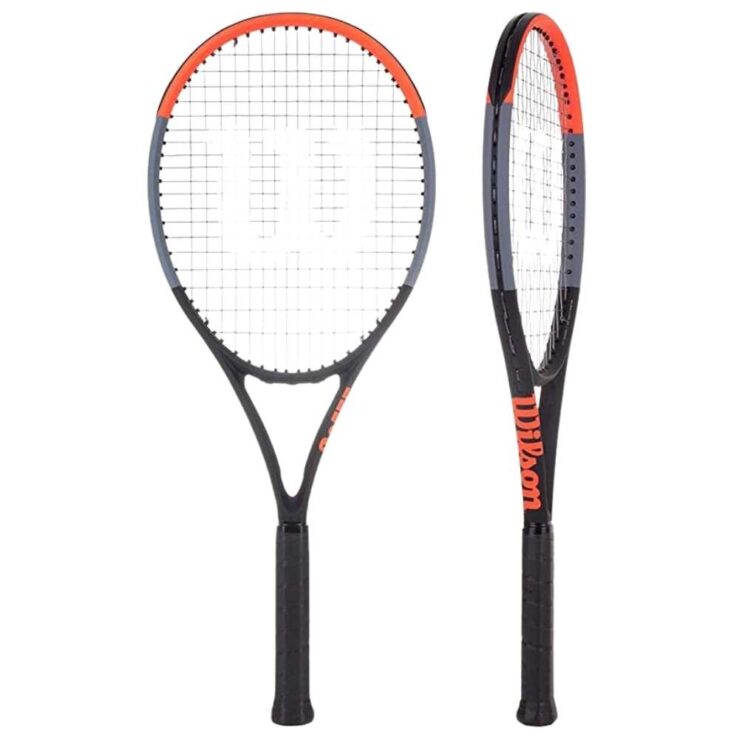 Pros
Provide Power
Good Control
Easy Swinging
Great Speed 
Open String Pattern
Easier to hit the ball
If you're looking for a racquet that delivers power and control, the Wilson Clash might be just what you need. Wilson Clash is a popular racquet among men and women. It has a large sweet spot for power and offers excellent control for aggressive players.
It is especially popular with young people just starting to play tennis. Although it is not the lightest racquet on the market, it is well-balanced and provides plenty of support. If you are looking for a powerful racquet that offers good control, the Wilson Clash is perfect.
Like Wilson Clash 100, you can use it to improve your game. This racquet is designed for professional players who want to take their game to the next level. With its explosive power and precision control, the Wilson Clash can help you dominate your opponents on the court.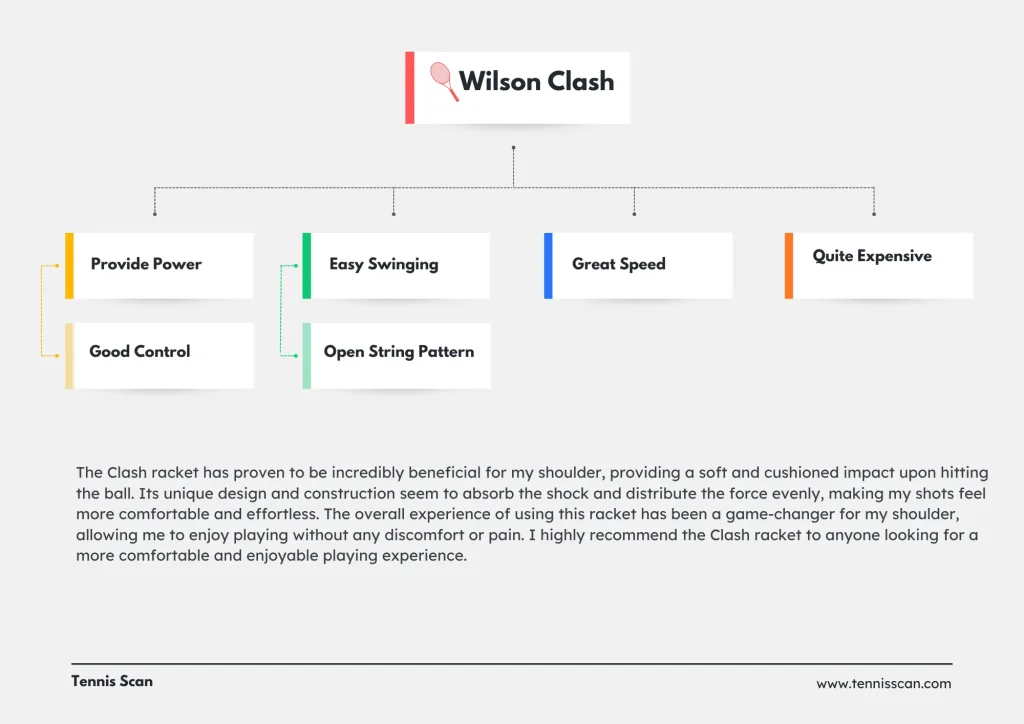 ---
Wilson Blade:
Top Pick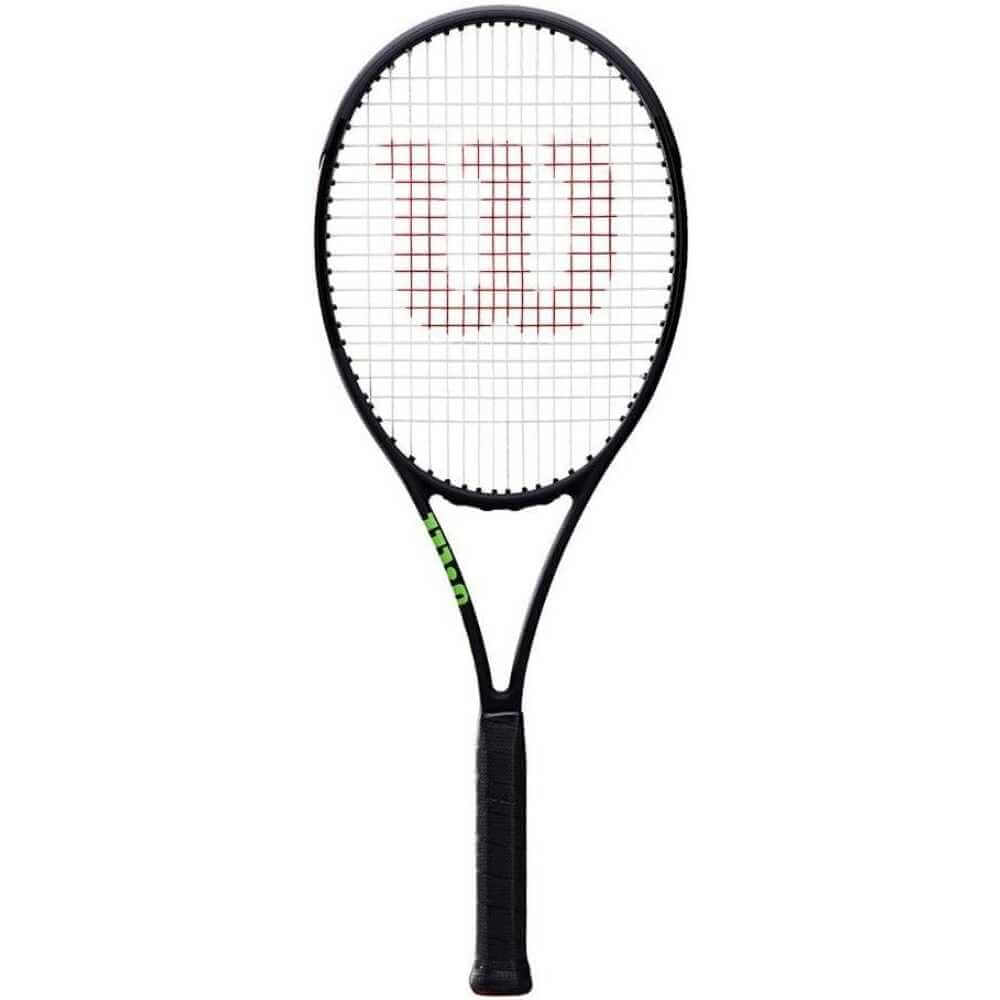 Pros
Great Power and Control
Head Light Balance
Teardrop Shape
Comfortable to use
Sleek Design
Cons
The blade shape is quite thin
Wilson Blade is designed for intermediate to advanced players. With excellent stability and power, a perfect option for those who want to take their game to the next level. It also comes with a comfortable grip, ideal for extended play.
This racquet is designed for people who want to play at an advanced level. It offers excellent control and power, which can help you to win the game. In addition, the Blade is made with top-quality materials to last a long time.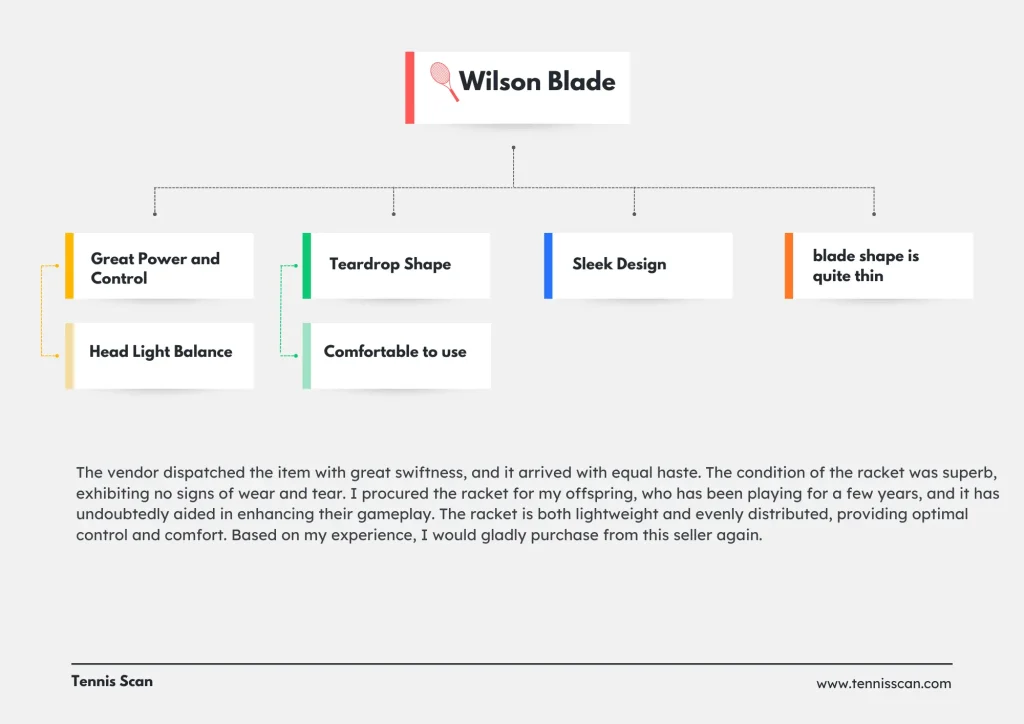 ---
Wilson Ultra:
Top Pick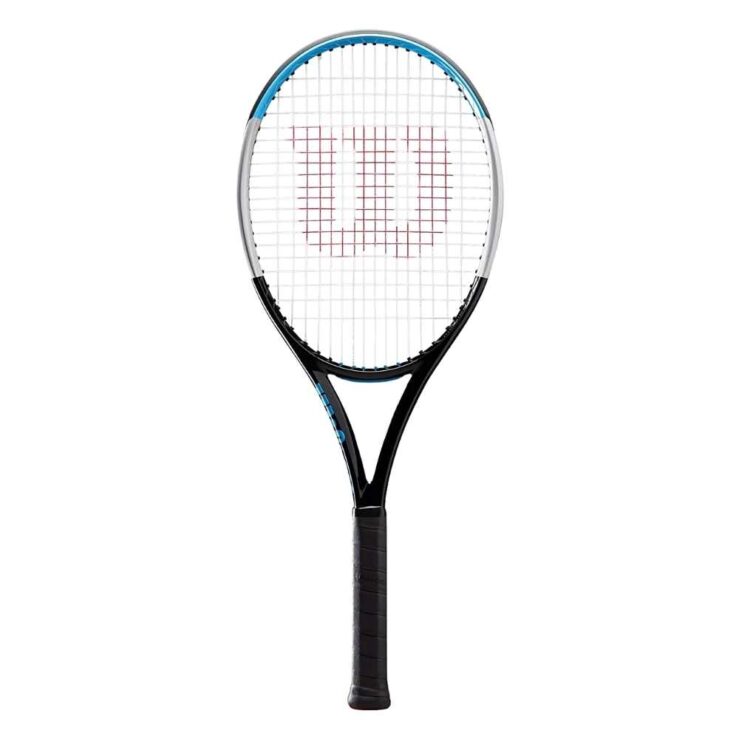 Pros
Crush Zone grommet system
Integrated Perimeter Weighting System
Higher Ball Speed
Lightweight and Durable
Comfortable to hold
Easy to use and swing
Provide Good Accuracy
Cons
Create sound when the club strike with the ball
Wilson Ultra is the best option for those looking for an ultra-light racquet. It has an ideal power and torsional stability blend, making it perfect for intermediate to advanced players. The racquet's head size is 115 square inches, which provides a good mix of power and control.
The ultra's 18×20 string pattern allows you to make more powerful swings without fearing twisting in your hand. The inverted Power Rib throat geometry helps to optimize torsional stability. It reduces frame twisting, making it easier to control your shots.
The weight is evenly distributed throughout the racquet so you can generate more power with less effort. It features a cavity inside of the frame to extend. Wilson has its new ultra Sweet Spot Channel (USSC) racquet that features a cavity inside the frame to extend its sweet spot.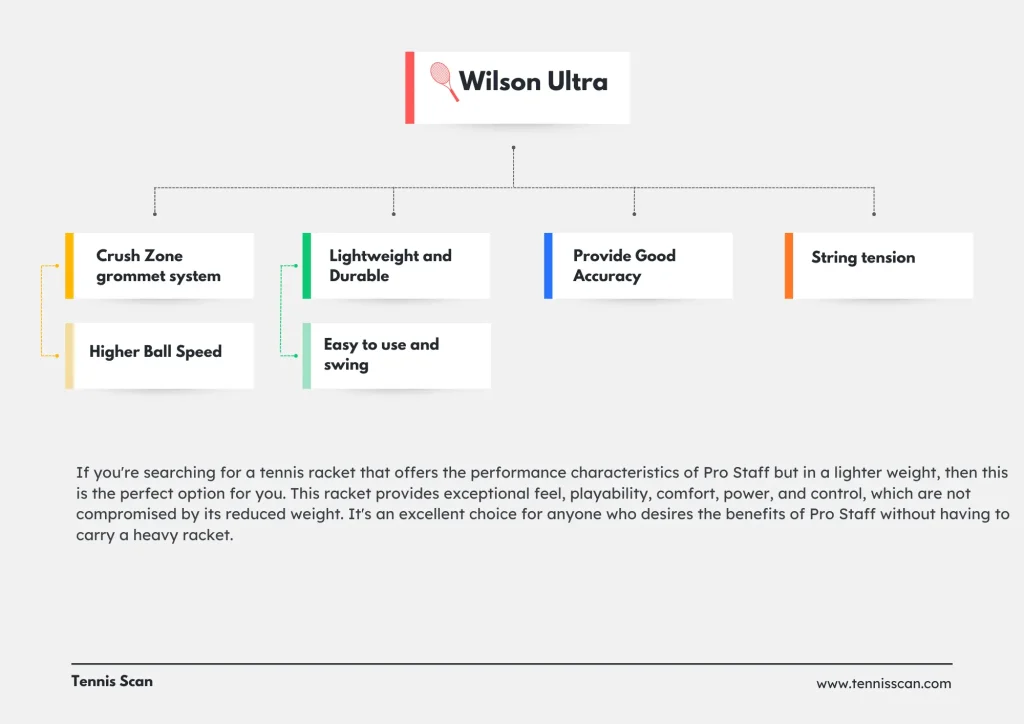 ---
FAQ:
Why is the Wilson Clash good?
It is easy to control and has good power. The racquet is also comfortable to grip and has a good weight distribution.
Which is the better racquet for a severe player, the Wilson Blade 98 or 98S?
The blade 98 is a little heavier, but it makes up for it with more power. The blade 98S is a littler racquet that is easy to move but it doesn't have as much power. If you want more power, go with blade 98. If you want more control and don't mind sacrificing some power, go with the blade 98S.
Which is better on power, comfort, control, feel, and spin, Wilson Blade or Wilson Clash?
Both racquets offer incredible power, comfort, control, feel, and spin. The Blade is heavier than the Clash and offers more power. The Clash is lighter and offers more control. The Blade feels stiffer than the Clash and provides more feedback. The Clash feels softer and provides more spin.
Is Wilson Clash suitable for beginners?
It is designed for beginner players. It is also a good option for intermediates looking for a powerful racquet that is easy to control. It has an oversized head and a lightweight frame and is easy to hit the ball. It is flexible which gives it more power.
For intermediate players, which Wilson tennis racquet is best?
Consider the Wilson Clash if you're an intermediate player who values comfort and control. Excellent feel and stability are provided by its distinctive shape, which makes it simpler to make accurate shots. For intermediate players who are still refining their technique, the Clash's tolerance for off-center hits is a great feature.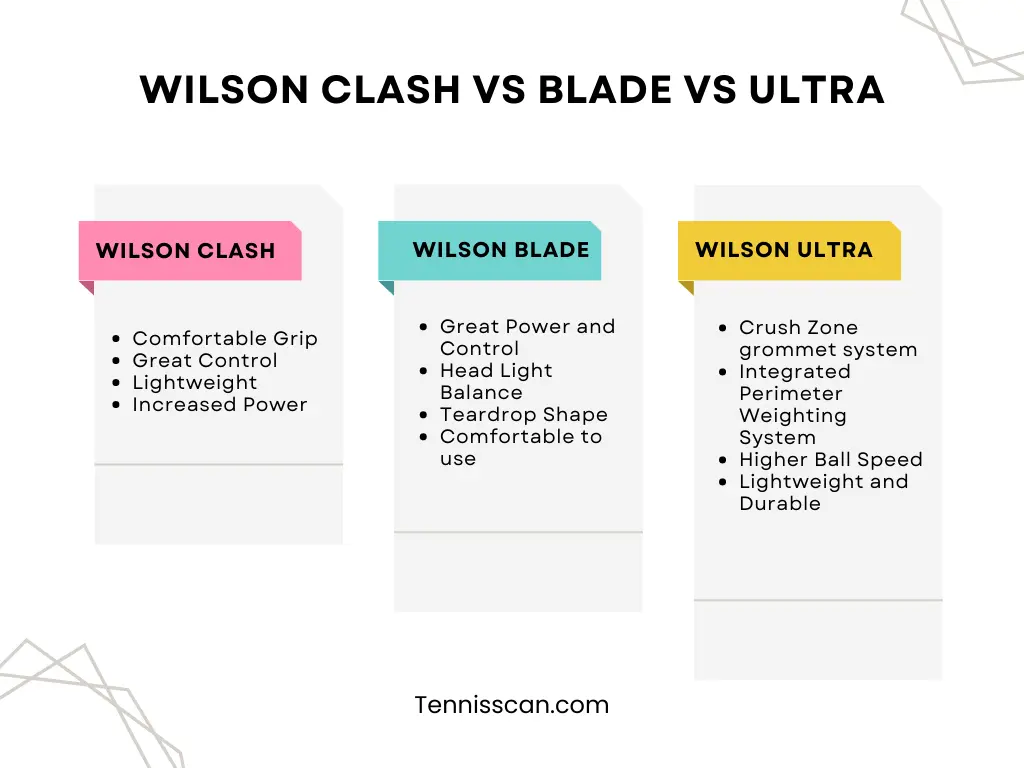 Wilson Clash vs. Blade vs. Ultra racquets has unique benefits. It is up to the player to decide which type of racquet they want to use for their game. Each type has its advantages and disadvantages, so players must try each out and see which suits them best.