Wilson came in a variety of elocution used by professional tennis players like Pete Sampras, Serena Williams, and Roger Federer. To determine which racquet is best to use so, I ordered Wilson's three different models from Amazon. Wilson is a dominant force in the tennis market. So I want to review the difference in Wilson Clash vs. Blade vs. Pro Staff.
Each has exceptional qualities that can help you find conclusive properties for you. Wilson always attracted me due to its sturdiness and strong strings with a broad head. It is a well-known brand and offers a variety of racquets to accommodate players of different skill levels and preferences.
Wilson Clash vs Blade vs Pro Staff
To fully understand how Wilson Clash vs. Blade vs. Pro Staff differs, I use each of these three racquets for roughly a month before reviewing them. In terms of their head size, handle length, string tension, and all other differences, I can precisely match them and distinguish them from one another.
When I opened the parcel, all racquets were neatly packed in bubble wrap. Each racquet included a user manual that quickly described all the precautions and instructions. I'll give a detailed description of each racquet, including its advantages and disadvantages as well as its features.
Using it in court or on your practice day will allow you to see its durability, good power, and control. You can decide which racquet best suits you based on your requirements. Let's talk about each in detail.
---
EDITOR'S CHOICE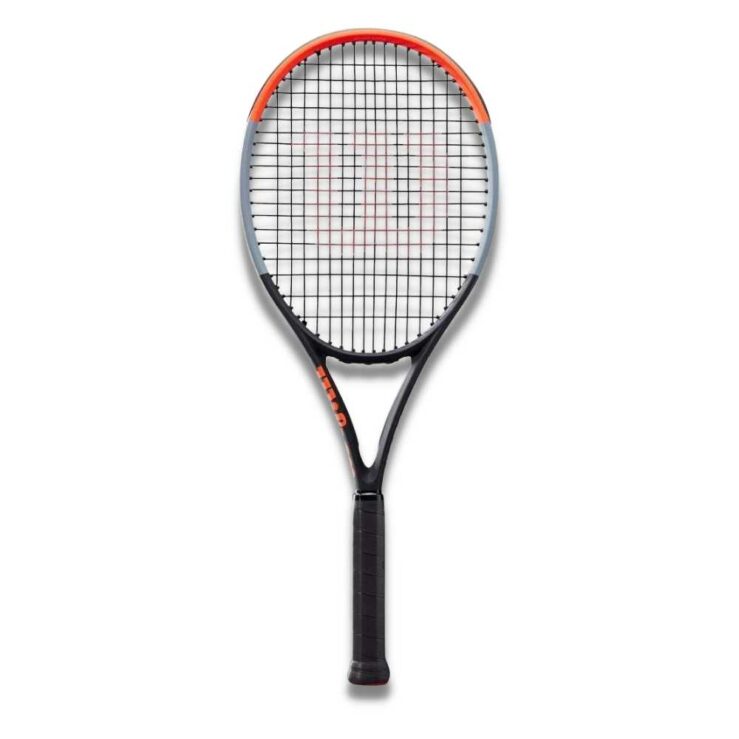 Wilson Clash Tennis Racquet
Material: Graphite
Skill Level: Advanced
Frame Material: Graphite
PREMIUM PICK

Wilson Blade Tennis Racquet
Material: Graphite
Skill Level: Advanced, Professional
Frame Material: Carbon
BUDGET PICK

WILSON Pro Staff Tennis Racquet
Material: Braided Graphite & Aramid
Skill Level: Advanced
Frame Material: Braided Graphite & Aramid
---
Specifications:
| | | | |
| --- | --- | --- | --- |
| Features | Wilson Clash | Wilson Blade | Pro Staff |
| Head Size | 98in | 98in | 97in |
| Length | 27in | 27in | 27in |
| Strung Weight | 326g (1 1.50z) | 320g (11.30z) | 357g (12.50z) |
| Balance | 8 pts HL | 5 pts HL | 9 pts HL |
| Swingweight | 327 | 317 | 333g |
| Stiffness | 60 | 61 | 68 RA |
| Beam Width | 24mm | 21 mm | 21.5mm |
| Composition | Graphite | Braided Graphite | Braided Graphite |
| Racket Colours | Black, Grey, and Red | Green and Black | Black |
| String Pattern | 16 Mains/20 Crosses | 16 Mains / 19 Crosses | 16 Mains/19 Crosses |
| String Tension Range | 21-26kg / 48-581b | 22-27kg / 50-601b | 22-27kg / 50-601bs |
---
Wilson Clash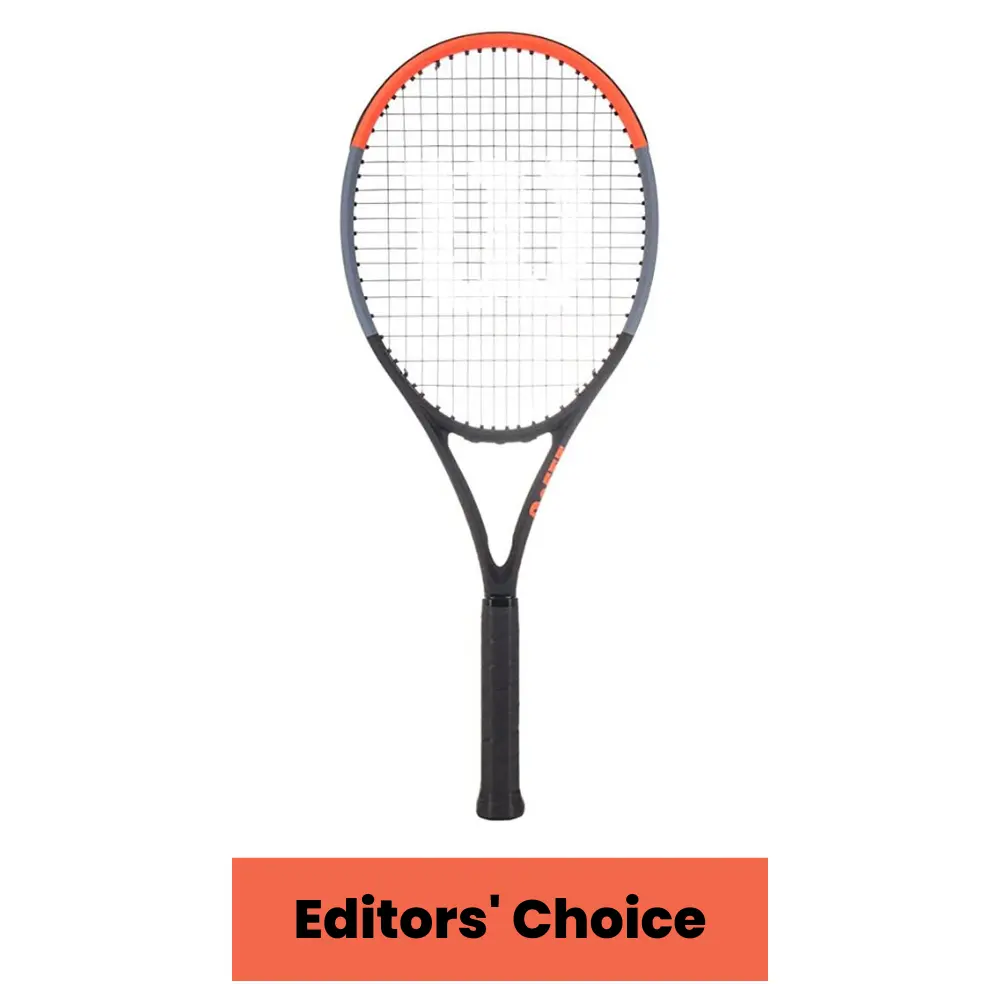 Wilson was established in 1913 as a leading manufacturer and supplier of sporting apparel, specializing in tennis gear. Tennis players who use the best tennis racquets are familiar with this brand. The main thing which I observe about Wilson clash is that it is best for beginners.
Wilson clash is unquestionably a better choice if you're new to tennis and wish to play with a larger head-size racquet. With the ideal balance of control, power, and comfort, the Clash racquet is meant to elevate your game.
Head Size
Players learning to control the tennis ball with spins will benefit from the 16×19 string pattern. But what makes this racquet stand out is its elasticity. It is now the tennis racquet that is easiest on the arms. It's ideal for any skill level the 100 square-inch head size.
Design
Wilson Clash is designed for intermediate to advanced players. It is made to provide more power and spin. The strings are tightly packed together, which gives you more power in your shots. However, this also makes the ball harder to control and can cause it to fly erratically.
Technology
The Wilson Clash is the newest and most advanced racquet on the market. It is followed by the Wilson Blade, which was designed with input from Roger Federer. The Wilson Clash has an open string pattern that provides power and a large sweet spot. It also has a built-in vibration dampener that reduces vibration and makes it more comfortable to play with.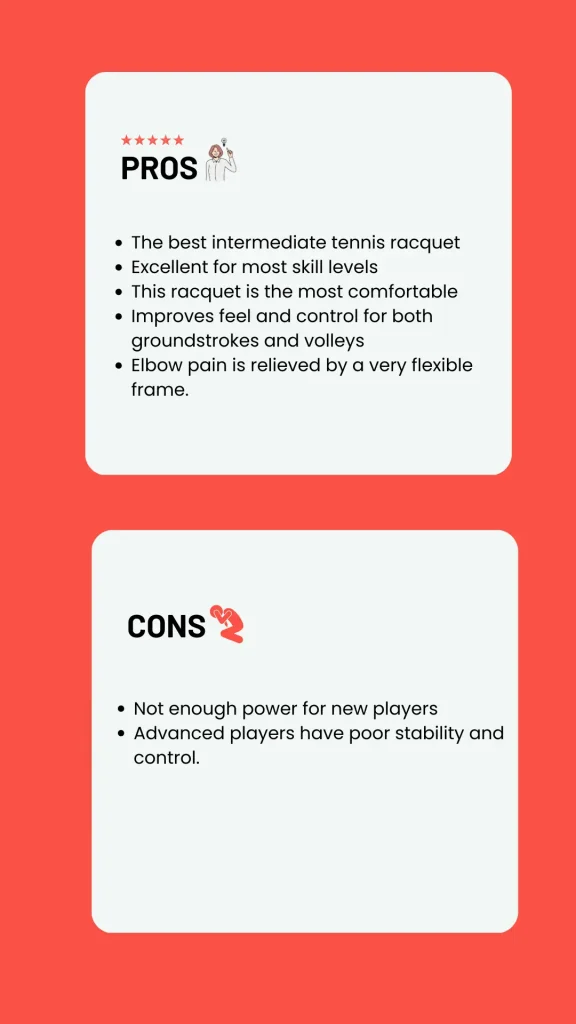 ---
Wilson Blade
Wilson Blade is my second preference after Clash as the best racquet when I searched. Wilson Blade is available in two head sizes, measuring 98 and 100 square inches, along with various weights and string patterns. The Countervail technology lessens muscle soreness and speeds up recovery.
Head Size
The Blade racquet is intended for players at the intermediate level. The Wilson Blade has a smaller head size of 98 square inches, which makes it better for players who want more control over their shots. It offers good strength and control, using it can be trickier than using the Clash. The best option for competitive players as it provides exceptional power and control.
Design
The Blade is designed for beginner to intermediate players who want more control and feel. Lastly, the Pro Staff is designed for advanced players seeking more precision and accuracy.
Technology
The Wilson Blade has a tighter string pattern that provides more control and precision. It also has a new "Countervail" technology that minimizes shock and fatigue.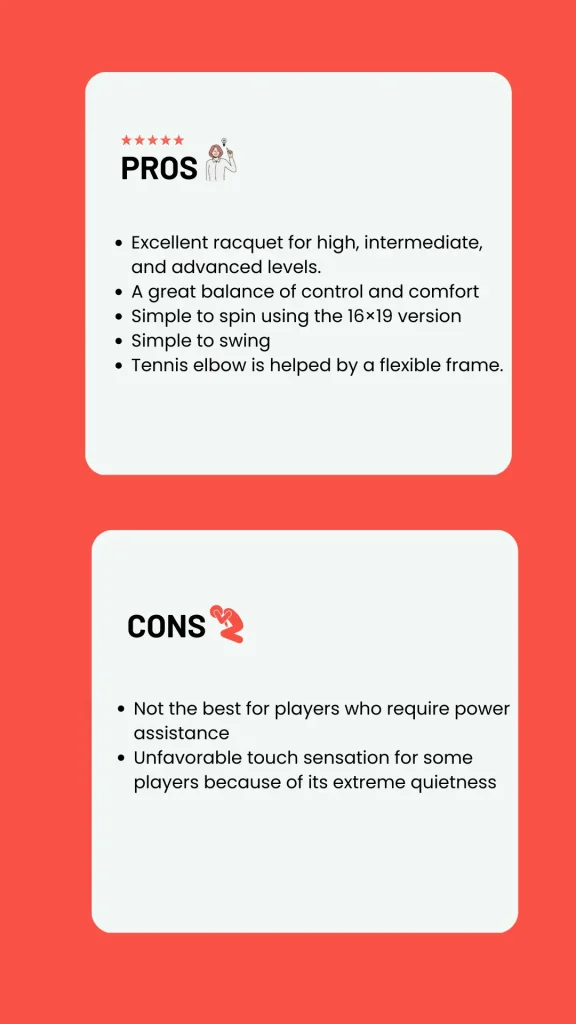 ---
Wilson Pro Staff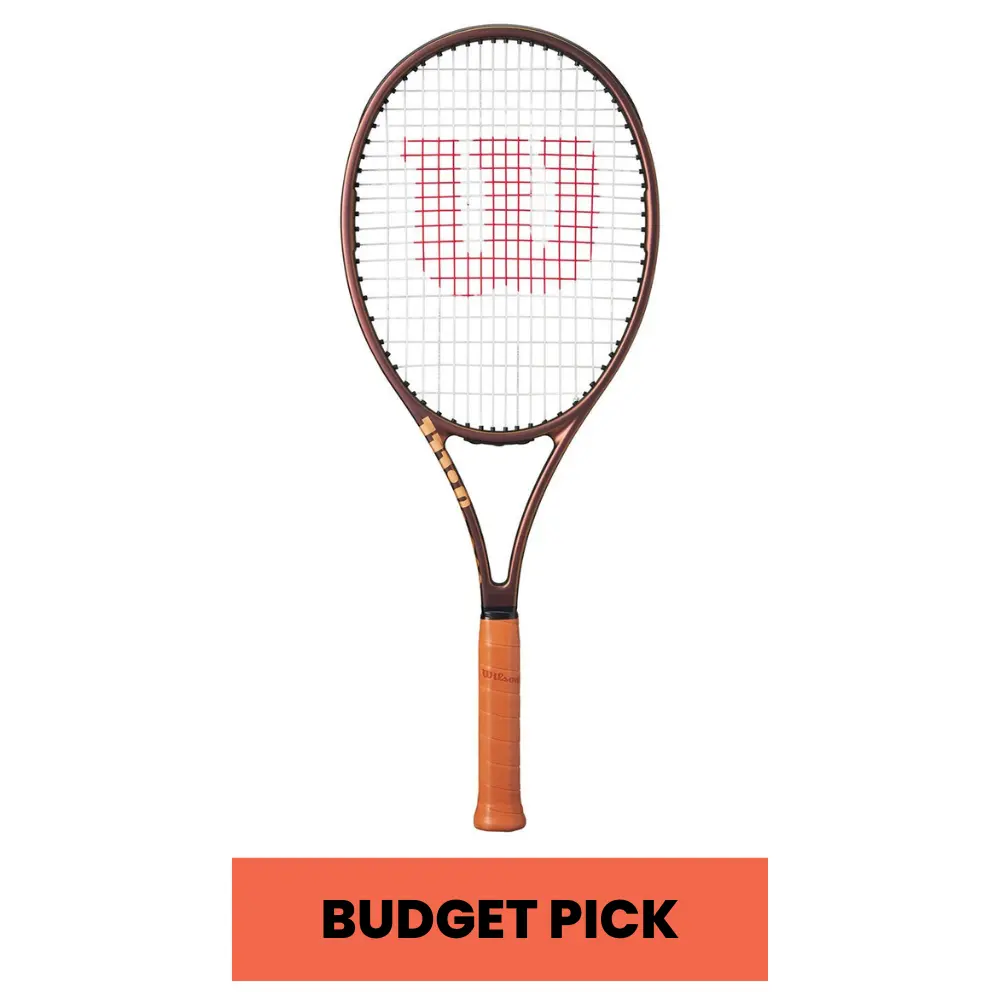 The Wilson Pro Staff is unmatched for experienced players searching for a control-oriented racquet. High-intermediate or advanced players who want to combine precision and power make excellent use of this racquet.
Head Size
The Wilson Pro Staff has an even smaller head size of 95 square inches, making it the most controllable of the three racquets. However, it also lacks power compared to other racquets.
Design
The Pro Staff has a unique string pattern that gives players extra power and control. When strung with the correct tension, the Pro Staff can provide an excellent feel and response. It's no wonder this racquet is used by some of the top professionals on tour.
Technology
The Wilson Pro Staff doesn't have any fancy technologies, but it does have a classic design that many people prefer.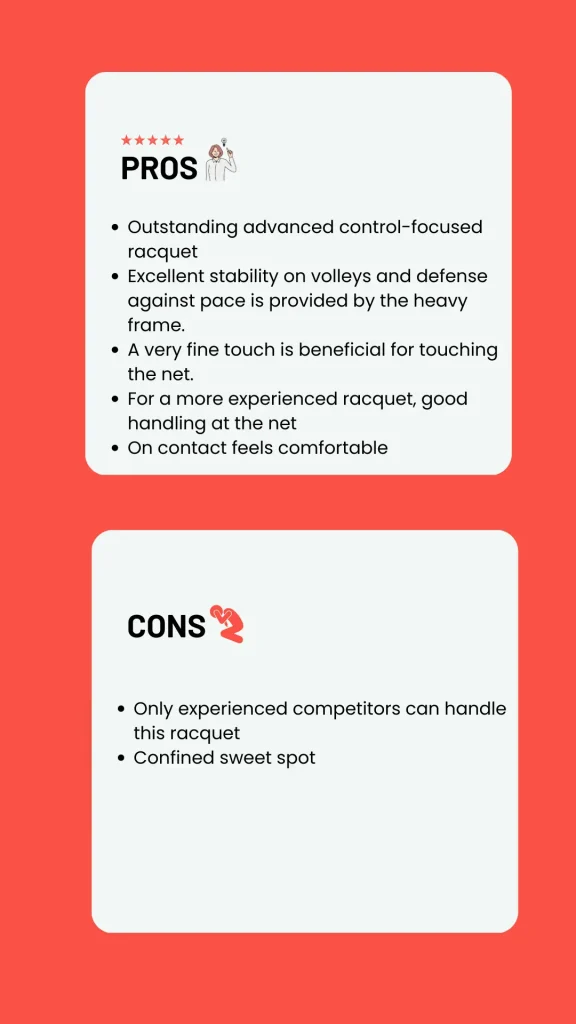 Reasons why you should buy Wilson Clash, Blade, and Pro Staff
Wilson is in the tennis game for a long time, I'll give you reasons why you should choose Wilson.
Check out: Head Boom MP VS Boom Pro
Which Racquet You Should Buy?
Choosing racquets all depends on your playing style and preferences.
Playing Style:
Wilson Clash, Blade, and Pro Staff are all tennis racquets designed for advanced players. They all have similar features, but some key differences can make a big impact on your playing style. So which one is right for you?
The Wilson Clash is perfect for players who want power and control. It has a large head size and an open string pattern that provides plenty of power, while the condensed sweet spot gives you pinpoint accuracy.
The Blade is designed for those who want more spin and maneuverability. Its smaller head size and closed string pattern create more spin potential, while the lightweight frame makes it easy to swing quickly.
The Pro Staff is perfect for players who want ultimate control and precision. It has a small head size and a tight string pattern that gives you maximum precision, while the minimalist design keeps the weight down so you can swing it with ease.
FAQS:
Is Wilson Blade an improvement over Clash?
The Clash 98 is slightly easier to maneuver than the Blade 98 because of its less head weight, and its lower stiffness rating will make it the most arm-friendly of the three.
Does anyone in the field utilize the Wilson clash?
Stefanos Tsitsipas, Simona Halep, a two-time Slam champion, Gael Monfils, and Aryna Sabalenka are more prominent players that use Wilson racquets.
What is the difference between a tennis racquet and a racket?
There are a few key differences between tennis racquets and rackets. The first, and most obvious, is the shape. Racquets have a more elongated shape, while rackets are more circular. This difference in shape affects the way the ball moves when it hits the racket.
Racquets tend to move the ball more laterally, while rackets give it a more topspin. Racquets are typically much lighter than rackets, making them easier to swing around. This also means that they don't generate as much power as rackets, so they're not ideal for use in professional tournaments.
Conclusion
In conclusion, the Wilson Clash, Blade, and Pro Staff are all quality racquets. It ultimately comes down to personal preference and what feels best in your hands. If you're looking for a fast and powerful racquet, the Wilson Clash is a great option. If you prefer a more control-oriented racquet, the Blade is a good choice. And if you want the traditional feel of a Wilson Pro Staff racquet, that option is available as well.