Selecting a coach is a critical decision. The correct coach can help you develop faster, while the wrong one can hurt your game and cost you money. If you are not a professional tennis coach and have no connections in the tennis community, finding a coach for your child might be a difficult task.
Tennis is a highly technical sport, and a coach plays a critical part in a tennis player's training. Never send your child to a coach without having given it a lot of thought first. To begin with, finding a quality tennis teacher who fits your child's personality and helps well with strategic and tactical growth might be difficult.
So, what makes an excellent tennis coach? What are their habits and behaviors that enable them to be outstanding coaches? Furthermore, the student-coach relationship, the coach's communication style with his or her players, the level of knowledge, and the coach's experience can all have an impact on these characteristics.
Things to Know About Tennis Coach
You want to learn tennis or improve your game, but you don't know where to start looking for a good tennis tutor. Perhaps you want to teach your child tennis and want to ensure you select the correct coach. If you don't know what to look for, it can be difficult. We'll discuss the best methods for finding the proper tennis coach for you or your child.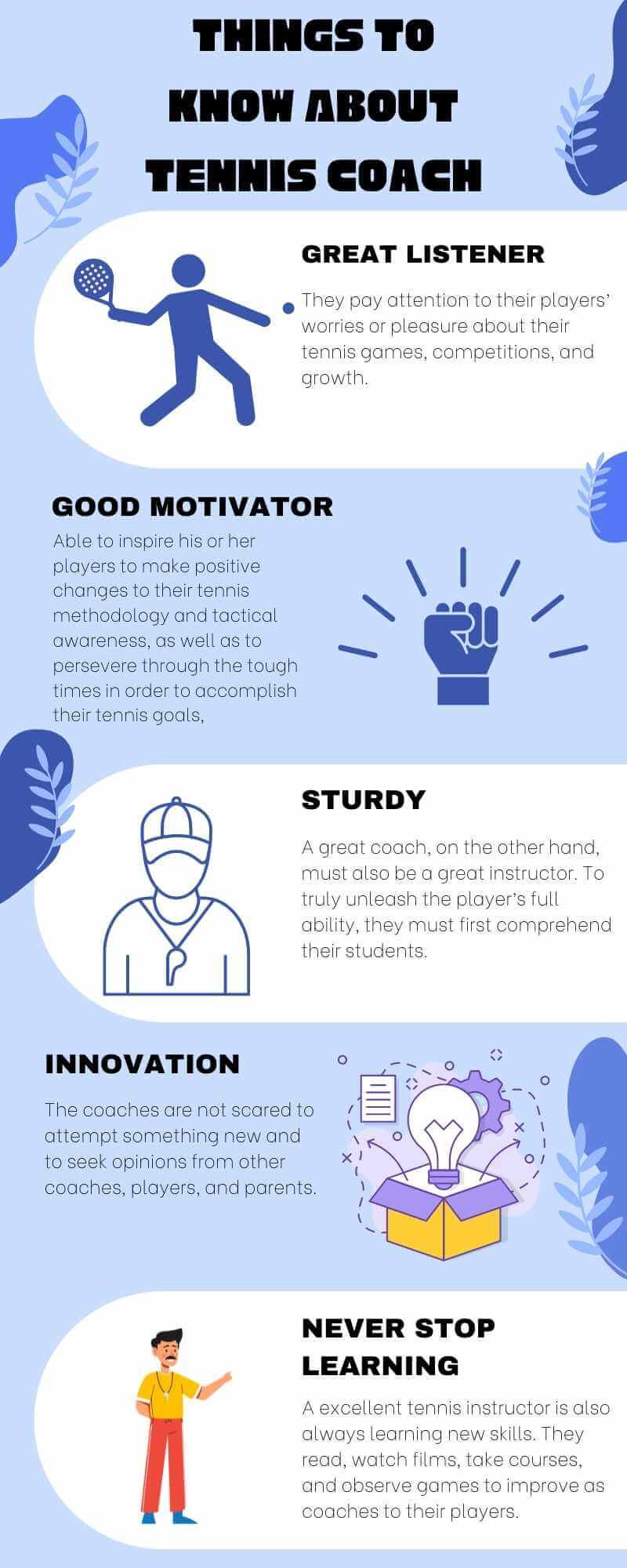 1: Great Listener
Furthermore, a superb coach isn't solely concerned with their players' technical growth. As a result, they pay attention to their players' worries or pleasure about their tennis games, competitions, and growth. Furthermore, coaches who are good listeners form a stronger bond with their players, which improves communication and aids in their progress over time.
2: A Good Motivator
The difference between a competent coach and a great coach is the ability to push their team to work hard, make changes, and never give up. Tennis, like any other sport, can be challenging at times. As a result, match victories, league points, and the competitive element of tennis can be difficult for young players.
A great coach must also be able to inspire his or her players to make positive changes to their tennis methodology and tactical awareness, as well as to persevere through the tough times in order to accomplish their tennis goals, whether they are to win high-level junior tournaments or weekly club matches.
3: Sturdy
Teaching a child to play tennis is a difficult but enjoyable task. A player's physical and technical growth is significant in order for them to reach their maximum potential. A great coach, on the other hand, must also be a great instructor. To truly unleash the player's full ability, they must first comprehend their students.
4: Caring
Great coaches, on the other hand, care about their kids. For example, they spend time getting to know their players, learning about their lives, and encouraging them to achieve their tennis and life goals.
5: Never Stop Learning
Tennis is, above all, a dynamic sport. So, in order to provide their players with the best chance to obtain their tennis goals, a great tennis coach must be able to shift with the game. An excellent tennis instructor is also always learning new skills. They read, watch films, take courses, and observe games to improve as coaches to their players.
Read More about: How to Win Doubles Tennis with a Weak Partner
6: Innovation
As a result, being an innovator is defined as "to bring something new; make modifications in anything familiar." To put it another way, the coaches are not scared to attempt something new and to seek opinions from other coaches, players, and parents.
A Criteria to Select Your Tennis Coach
Can the tennis Coach Play?
I would never advocate that someone take tutoring from a player who is below the 4.5 level. This is because, in order to properly teach, a coach must have a basic understanding of all of the tennis strokes. The coach should not be coaching tennis if he or she cannot teach basic techniques. Remember that the majority of tennis instructors have never played professional tennis.
Even so, such coaches can be excellent; particularly if they are USPTA certified and have strong basics. Give a coach serious attention if they have patience, make classes enjoyable, and have a variety of inventive teaching methods. At this point, pricing and accessibility may be the only things keeping you from hiring the coach.
How Much Does a Tennis Coach Charged
The location is crucial. Consider paying more if you live in an expensive metropolis like New York or London than if you live in a rural location. Expect to pay more for lessons at an academy or tennis center than you would from a coach working alone.
The coach's reputation is also important. Expect to spend significantly more ($100+ per hour) for a world-renowned instructor than for an ordinary coach ($40-$50 per hour). Some of the coaches have extensive expertise and are former professional players. These coaches will also charge a higher fee. In my location, a lesson normally costs $60-$80 per hour.
Final Words
It shouldn't be difficult to choose the ideal coach for you. It will take some research unless you receive a reference. You now have all of the tools necessary to locate the appropriate tutor. I would advise you to wait until you have taken at least one or two classes with an instructor before purchasing a "package" of lessons. Before you commit to a series of lessons, see if they're worth it.