Do you want to replace the alternative to tennis balls on the walker because they keep wearing out? Tennis balls are often placed on walkers to reduce noise, preserve flooring, and make pushing the walker simpler.
Tennis balls designed exclusively for walkers are available. Tennis balls can be cut for walkers with a serrated knife or by clamping them with a saw, but use caution. Tennis balls can be substituted with ski-shaped and sneaker-style footings, among other things.
For senior people, walkers are typical mobility assistance. Additionally, tennis balls have been placed on walkers for ages to increase stability. You must have witnessed it for yourself, I'm sure.
Alternative to Tennis Balls on Walker
The rear feet of a walker will typically come with rubber pads attached when you buy one. While many older folks who use walkers find this to be fine, the vast majority of them require something that will allow them to push their walker rather than pick it up with each stride.
They find it much easier to push the walker than to pull it up with each step, and the tennis balls move more readily on the floors inside where they take most of their steps. Pushing a walker that has rubber pads on the back legs is challenging and causes the walker to "shutter" as you move it.
For this reason, so many walkers have tennis balls added to the back feet. They make for a smoother walk, help in pushing, and keep one from scratching floors. Additionally, these rubber pads tend to degrade very fast, which can result in flooring being gouged or an incredibly annoying clacking or dragging sound when a person drags the walker across hard surfaces.
It's crucial to remember, though, that not everyone believes that using tennis balls for walkers is a good idea. The manufacturer of medical supplies NOVA even went so far as to start a "Lose the Tennis Balls" campaign, claiming that the balls make walkers dangerous, unhygienic, and unsightly.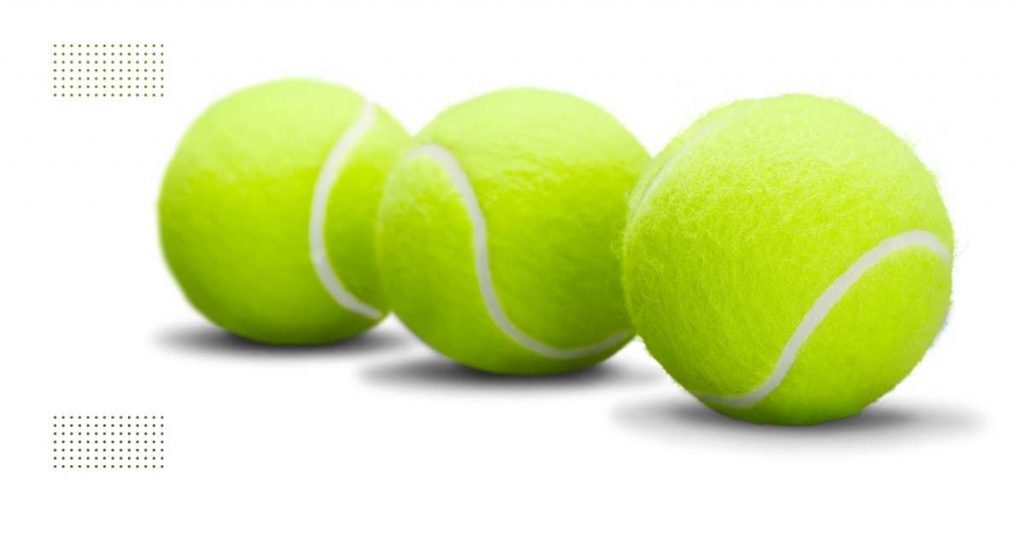 Tennis Balls for Walkers
Tennis balls are relatively straightforward, and if you want to use one on a walker, you may cut and adapt a regular tennis ball. If you want to save some money, you might ask about your neighborhood tennis clubs, which occasionally offer their older, worn-out balls to be utilized for this reason.
Walker Tennis Ball Glides STARTOP Deluxe Pre Cut
This StarTop option is for you if you don't need anything fancy and just want a regular tennis ball but also want something that is pre-cut and simple to install. Genuine tennis balls are used in the construction of Startop Walker Balls, which glide across doorways, carpets, and walkways without getting caught as other walkers do.
Installation is made simpler by the 'Y' cut that is already present on each tennis ball. Put the walker leg in the slit without having to squeeze; just push. Why take a chance on harm or lose time cutting worn-out or damaged balls? Unlike any other walker ball on the market, Startop's unique cut shape offers a substantially more secure fit.
The custom-cut walker's balls will never scratch, nick, or scrape your priceless Pergo, linoleum, or hardwood floors, unlike plastic walker slides. You can easily glide across the majority of surfaces using these tennis balls.
Instead of the conventional green, purple, or blue pattern, you can choose from four animal patterns to express your flair and uniqueness! You have the option of leopard, cheetah, tiger, or zebra animal prints. But you may still select a green tennis ball if you want to keep with tradition.
Pros
There are many different patterns to choose from; if you want to stand out, try the various animal prints.
Installing these on your walker is simple because of the precut holes in them.
No flooring will be harmed by these, which are promised to safeguard your floors.
Cons
Short lifespan: Based on how much you walk, you can find that these wear out or break down quite rapidly.
Top Glides Tennis Ball with Walker Precut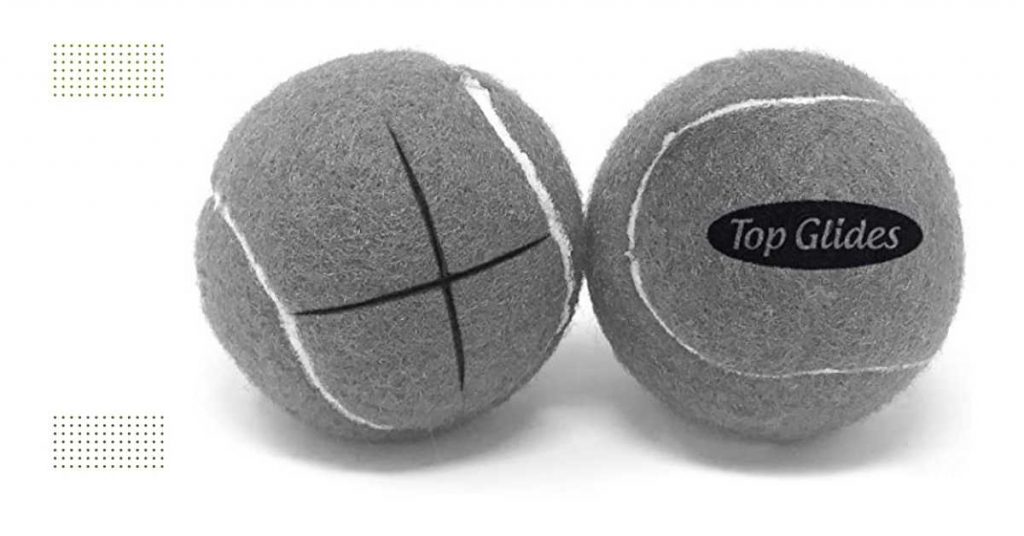 The Top Glides Precut Walker Tennis Ball is perfect if you have your heart set on tiger pattern tennis balls. The appealing appearance of this product is not the only positive aspect, either. These tennis balls have an X incision precut into them so they are immediately usable.
This also makes it very easy to attach them to your walker, and once they are attached, they won't slide or come off. The exceptionally soft felt fabric of these tennis balls makes them perfect for safeguarding your flooring as well. No matter if you have carpets or hardwood floors, these tennis calls won't leave any scuffs or marks when you play.
Pros
These are a great choice for you if you want to save some money.
Using these balls doesn't need playing with blades, making them considerably safer than creating your own protection floors
While you are walking, these won't leave any marks.
Cons
Low quality – because they are so inexpensive, these tennis balls aren't produced with the best materials and could degrade very soon.
Balls RMS Walker for Glide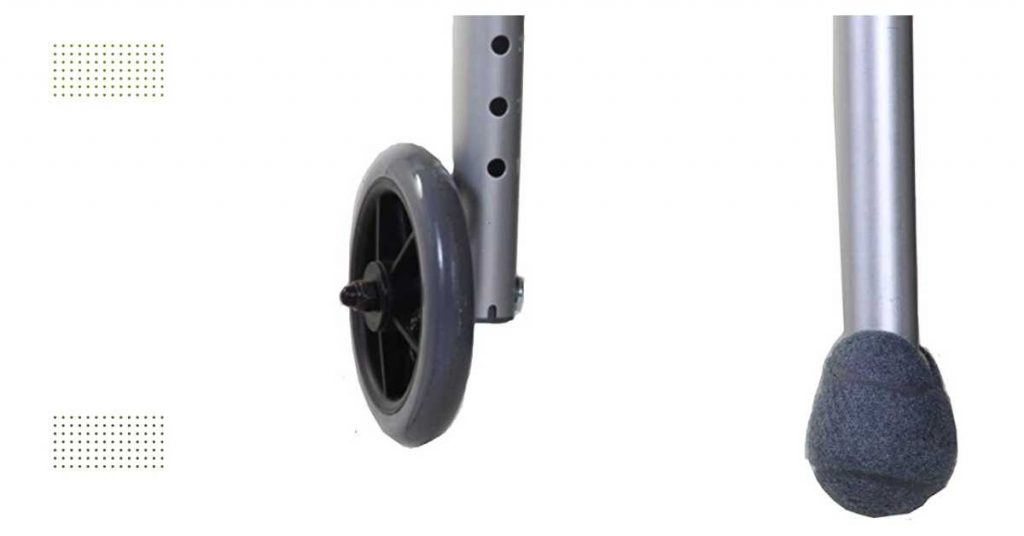 For a number of reasons, these tennis balls are a particularly popular option for persons using walkers. To begin with, they are already chopped and prepared for usage. Each tennis ball has a pre-cut, straight slice down the length of it. If you're worried about hurting yourself while making your walker balls, this is a great answer.
Open the tennis ball with a squeeze, and then place it on the walker. The last thing you need is a loud walker who will annoy everyone around them as well as you. Fortunately, the RMS walker balls take care of this problem for you.
You can move around covertly and with little effort thanks to the walker balls' ability to glide smoothly and quietly across a range of surfaces. The RMS Walker Balls are compatible with the majority of walkers that have standard 1-inch tubing, so installation should be simple as you don't need to force them onto your walker's legs.
Pros
These tennis balls are built with high-quality materials, including a rubber interior and a soft felt outer coating, so they should last you a long time.
It will increase the quietness of your walker, so you no longer have to worry about it clacking while you walk and irritating others.
These balls won't harm any of the floors in your house, regardless of their type.
Cons
These balls have a slit cut rather than the more common X or Y cut to accommodate the legs of walkers. This could allow outside dirt and filth to get within the balls, making the bottom of your walker very dirty or muddy.
Walkerballs from Penco Medical
If you're looking for a way to show your pride in your country, Penco invented the commercially produced walker ball. These are great for veterans or any patriotic American because they are embellished with the American flag.
These balls may be the ideal option for you if your walker has front wheels rather than just basic legs because they will allow your walker to glide easily across practically any surface. Regardless of the leg tubing diameter, these hollow balls with a distinctive form are pre-cut to accommodate the majority of walkers' legs. The walker can be tailored to your taste because they come in a range of colors.
Pros
Very long-lasting – these last a lot longer than using a regular tennis ball Patriotic – demonstrate your passion for your nation. These tennis balls are primarily enjoyed by veterans.
Good materials are used to create items of high quality that won't degrade too rapidly.
Cons
If you don't have a lot of power in your hands, it could be a little challenging to press these balls onto your walker because they are a little firm.
Alternative to Tennis Balls
Tennis balls are not suitable for everyone due to their appearance, utility, or longevity. If you're looking for anything to replace tennis balls with, keep in mind that there are a number of other products out there that work just as well.
Ski Glides and Covers for Vive Walker, 4 PCS – Universal Replacement Feet
These are the typical universal-fit walker ski glides, but they also come with small slippers for use on hardwood floors as an extra convenience. This reduces the risk of scratching the flooring. Normal ski glides won't have a problem with this, but if the floors have recently had restoration and you're worried about damaging them, this is something to keep in mind.
The Vive walker ski glides are sized to match any walker design and offer a simple, smooth movement. Ski glides that are curved attach themselves firmly to posts that have a diameter of 1′′ to 1 1/8′′. You can use these without dragging your walker or ugly tennis balls on tile, pavement, concrete, or carpet.
Two velour glide coverings are included with this set of two walker ski glides for indoor use. Because they are scratch-resistant and can provide you with additional stability on any surface, these glides can be used both indoors and outside. The inclined ski tips glide smoothly over carpets, tile transitions to carpet, and door jambs.
For indoor use, two velour glide covers are provided. These coatings give an additional layer of defense against snags and scratches when one transitions from the exterior to the interior. The heavy-duty composite material used to make the thick walker ski glides are designed to withstand repeated use.
Pros
With these walker accessories, you won't have to be concerned about losing your balance.
Can be used on a variety of surfaces; wherever you walk, they won't harm your flooring, and neither will your floors harm your feet.
In comparison to tennis balls, these are highly sturdy and will last you a very long time.
Cons
Although the manufacturer claims that they can fit all walkers, numerous customers have reported that this is not the case. Many walker legs frequently appear to be too small for them.
Sneakers Walker Glides Drive Medical Rtl100014
While these walker leg tips are the priciest ones available, they are also the most interesting and entertaining to look at. These little shoes for your walker are great conversation starters and glide as easily as any other kind of ski. These function just as well as any other walker accessory, gliding across most surfaces smoothly and effortlessly.
These are quite simple to install; all you have to do is put them in place and you're good to go. Thanks to a knob on the glide's bottom, which is used to change the tubing's diameter, these fit all tubing diameters.
Pros
Tiny shoes for your walker will draw attention because of the fun design.
Glides through floors with ease; these can be utilized practically everywhere, like tennis balls or other alternatives.
Cons
Due to their unusual design, these could become tangled up as you move around and get trapped on the edges of doorways or bumps in the floor.
Cut-Prepared Tennis Balls
Tennis balls that have already been cut are available for purchase if you felt that the aforementioned procedure was too much for you to handle or if you lack the confidence to cut the ball yourself. After removing the current tips from your walker, you can easily attach these to it.
Tennis balls that are already chopped are available from RMS Walker Glide Balls, so you don't need to follow our instructions. If you have a walker with 1-inch tubing, the balls are an excellent option because they are smooth and silent.
FAQ'S
How is fitting for a walker done?
Be sure your elbows are bent. Place your hands on the grips while maintaining a comfortable posture. You should be able to comfortably bend your elbows at a 15-degree angle. Check the height of your wrists. Lie back with your arms at your sides as you enter the walker.

Why are tennis balls placed on Zimmer frames?
Walkers with a standard aluminum frame, also known as Zimmer frames or walking frames, are only effective indoors and on flat terrain. Tennis balls are frequently placed on the walker's hind legs to make them slide around the floor more smoothly.

Pre-cut tennis balls for the chairs in the classroom?
The classroom is filled with chairs. It is vital to understand that using a pre-cut tennis ball is the best way to safeguard your flooring or other surfaces. Additionally, we already discussed how to cut a tennis ball on a walker.

How can I quiet down my walker?
If you have no restrictions on your ability to bear weight and you're using a walker with wheels, you can continually move around the floor as long as you stay between or slightly in front of the back legs. If you don't forcefully advance wheeled walkers by pressing down on the back legs, they will be quieter.

Why do elderly people's walkers have tennis balls on them?
People who want to slide their walkers or who are limited in their ability to raise them can use walkers with tennis balls. Tennis balls can be used in these situations to help users slide the walker more smoothly by providing a little more stability than would otherwise be the case.