I've been playing tennis for over 10 years and one thing that I have learned is that you cannot play your optimum tennis if you are not properly equipped. Rackets are probably the most important yet most expensive part of tennis gear. It goes without saying that tennis is an expensive sport. From shoes to shorts and rackets everything that is good literally costs you an arm and leg.
It was more true when I started but today things have changed a lot. Now there are more brands in the market and we can find tennis gear over a wide price range and luckily this is true for tennis rackets also. If you are looking for the best tennis racket for under 100, this review guide is for you. I've shared the 10 best tennis rackets under 100 that offer the best price-performance ratio.
10 Best Tennis Rackets For Under 100
1. HEAD Ti S6 Tennis Racket Review
Head Ti S6 Tennis racket is on top of the list for many good reasons. Though I outgrew this racket a few years back it is still on my favorites list. The racket was recommended by one of the pros at the club when I as a beginner was struggling with power issues in the swing. This racket weighs only 9 ounces and I was able to introduce the torque in the swing without losing stability and control. Another thing that I loved as a beginner was its length.
The racket measures 27.5 inches and is slightly longer than its counterparts. The extra length means more forgiveness and I was able to hit the ball over the net even with the compact strokes. Since it is made with the needs of novices in mind a larger sweet spot will not surprise you at all. The head measures 115 sq. inches and offers best-in-class leverage and forgiveness.
The extra length coupled with an oversized sweet spot helps you hit the balls away and reach the ones that are mostly unattainable for beginners. Heavy head technology has its own perks. Though the frame is lightweight a heavy head helps you supply extra torque to the swings and ensures efficient energy transfer to the ball. However, when it comes to stability and control it is no different from other lightweight rackets.
The shock performance is not very impressive and big strokes can hit hard on your muscles. The control issues are also there but since you have a larger sweet spot you can maintain a decent level of hitting efficiency. Finally, this is one of the very few tennis rackets in this price range that offer decent build quality. The racket is made with premium-grade titanium and graphite fiber giving you the best value for money.
Head Ti S6 with its solid build quality and heavy head balance is the best tennis racket for under 100 you can buy today. This racket is a great option for beginners and also it serves you best at the intermediate level. From a heavy head balance to a larger sweet spot it has everything that will help you master the precision.
2. Head Microgel Radical Midplus Tennis Racket Review
Head Ti S6 combines impressive build quality and dependable design but unfortunately, it feels outgrown as you cross level 2.5. So the next on the list is Head Microgel Midplus. Once you have learned how to sustain a short rally, you need extra spin and more variations and this is what you get from Head Microgel Mid plus.
The thing that I could feel right from that first strike was its ability to uniformly distribute the impact around the frame. The unique microgel tech effectively absorbs that impact and uniformly distributes the load which results in the least ball deflection. The size of this racket is 98 sq. inches and comes with a comparatively smaller sweet spot.
So the margin of error is low and if you are a complete novice I will not recommend it. However, the racket offers impressive control and maneuverability and helps you improve your hitting efficiency around the nets. The racket features a graphite frame with carbon composite making it a solid and rugged structure.
The vibrations are easily manageable and I also loved its comfortable grip. It weighs just over 11 Oz and is pretty easy to maneuver. The dampener on the racket is awful and slips from the string too often. The racket comes with a small wet spot, it's not a great option for complete beginners.
Head Microgel Radical Plus is the best tennis racket for under 100 you can buy for intermediates. The racket combines excellent control and variation and helps you master various skills in the best possible way. The Microgel Tech improves the impact performance of the racket making it exceptionally comfortable.
3. Babolat Boost S Strung Racket Review
If you have a natural soft swing this ultra-flexible racket by Babolat will help you keep the ball in the court. The two things that I noticed right away were its flex and lightweight structure. It weighs only 9.87 ounces and allows a bit of acceleration through the ball without sacrificing control and stability.
The well-thought-out design of the racket helps you get a decent amount of spin and power. Whether you are a beginner or intermediate, this thing can serve you best for your abilities. The head size of the racket measures 102 sq. inches and it is one of the very few rackets offering a perfect weight-to-size ratio.
Though it may not be as effective for power shots as some heavy racket out there it is definitely a great option for the newbies who need more control and spin. Also, I loved the way the racket is made balanced to reduce arm fatigue and keep your muscles happy. The woofer gorment invasion is implemented in the string system which dampens the vibrations for more control and increased hitting efficiency.
The pre-strung system on the racket comprises sixteen mains and nineteen crosses. The strings are tight enough to give you a sturdy hitting platform. The biggest downside of this racket is its open string pattern that is highly prone to breaking. Also, its head is lightweight and is good for swing but when you try to get momentum stability issues can block your way.
Babolat Boost S6 is an affordable yet highly dependable racket that is a great option for beginners and players who are back to tennis after a long while. I'm not saying that it offers the best string quality overall but in this price range, this is probably the best design and quality you can buy.
4. WILSON Adult Recreational Tennis Rackets Review
The next racket to qualify for the list is Wilson Adult recreational tennis racket. This racket is designed for players having short and compact swings and gives you class-leading leverage and forgiveness at the net. I'm not the one who plays with an oversized racket but the thing that made me a fan of this racket is its unique hammer technology.
A head size of 110 sq. inches coupled with a hyper hammer 5.3 stretch OS, creates a big sweet spot for maximum forgiveness and power. It allows you to hit hard-to-reach ground strokes away just with the right amount of control and power. Another thing that I loved about this racket is its heavy head and lighter frame combo.
Unlike other recreational tennis rackets, it features a heavy head that lets you get momentum with a little power without sacrificing stability. Though the swing weight is low it offers full to medium swings with maximum control. The biggest disappointment that comes with the racket is the subpar build quality.
The average construction and open string design limit its application to only recreational and beginner use. Also, this is not a uni-body or one-piece racket. Instead, it has a connecting bridge so the power transmission for the swing to the ball is not as efficient as it is on a unibody racket. The racket is designed for beginners and most of the players outgrow this racket in a very short time.
Wilson Adult recreational tennis offers good power for players with medium stroke and offers class-leading leverage and forgiveness at nets. Its heavy head design absorbs the shock energy allowing you to hit hard with less power. The impressive grip combined with a larger sweet spot and well-balanced structure makes it the best tennis racket for under 100.
5. Babolat Boost Drive Pre-Strung Tennis Racquet Review
Babolat Boost drive is the second Babolat tennis racket to make its way to the list. What sets it apart from the rackets reviewed above is its weight. This heavy racket weighs 16 Oz and I used this racket when I was struggling with the early stage of tennis elbow. Even with a compact stroke and low swing, this racket allows you to transfer maximum torque to the ball.
The racket is impressively stable and absorbs maximum energy when the ball hits the strings. With a little power input, I was able to get the required acceleration. This way it really helped me lower the stress on the muscles. This is a powerful racket that lets you hit hard without surfacing the stability and control.
The best part of this racket is that it combines a heavy structure with a larger sweet spot. The head size of the racket measures 105 sq. inches. It was a little hard to maneuver for its extra weight but a big sweet spot helped me get maximum balls on the string. The shock performance is good and it equally distributes energy around the frame.
The racket is designed for effortless access to the power but the thing that I found missing was the extra spin. The power is great when you have tennis elbow or injury but once you are fit for solid strokes the extra power feels a little overwhelming. Too much power with limited precision definitely no one wants it.
Babolat Drive Boost pre-strung racket offers the easiest access to power making it a great option for seniors or players struggling with injuries. The best part of this racket is that it is suitable for players with a wide range of skills and experience. It is not as demanding as a pro-player option and not as forgiving as beginner rackets.
6. Teloon Tennis Rackets for Adults Review
The Teloon Adult tennis racket is designed for recreational purposes and is one of the best quality rackets that you can buy for under 100. The racket features a unified molded construction making it sturdy enough to hit power strokes without being concerned about stability. The racket weighs 10.1 Oz and offers a rock-solid feel when you hold it.
Though it is not a power racket I was completely blown away by its ability to absorb shock. The solid triangle distributes the shock energy evenly around the frame. This feature not only improves control and stability but also helps increase the power of hitting. Since it is lightweight you can strike over a wide swing range.
The tension in the strings is 50 lbs and I was able to hit over the net even with ultra-compact strokes. The racket is 100% carbon fiber and can resist damage for many years to come. The racket is also paired with a dedicated spring protector that protects the strings from abrasion due to repeated ground collisions.
The racket is a solid all-rounder built for beginners but it has major design conflicts. The head size of the racket measures only 100 sq. inches and therefore the margin of error is pretty low. Players who don't have full-court coverage might not be able to return the tricky strokes. However, a compact head improves your control of the racket and makes it highly maneuverable.
Teloon Tennis racket is a beginner-friendly recreational tennis racket that offers easy access to power. The racket comes with a wooden grip but an overgrip is also included in the package that you can wrap around the grip for maximum control. With 100% carbon fiber construction and a solid single-piece structure, this is undoubtedly the best tennis racket for those under 100.
7. HEAD Ti. Conquest Tennis Racket Review
Head Ti Conquest 27-inch racket is next on the list for many good reasons. The racket is designed for beginners and I found out that it offers just the right level of forgiveness and power that a beginner needs. The racket weighs only 9.7 Oz and therefore I was able to swing at an impressive space. Also, the racket is slightly longer than its counterparts and therefore it offers extra reach on the serve, overheads, and double-handed strokes.
The headlight balance on head reduces the vibration and improves its impact performance. Since it's a lightweight racket I didn't feel any control or maneuverability issues. This feature combined with headlight features ensures that the player doesn't lose control and stability while hitting the ball. The frame is made with durable Nano Titanium technology and lasts longer than your expectations.
The overall build quality is average. The handle is not very well built and cannot take the pressure of intense gaming sessions. The head size measures 108 sq. inches. Its sweet spot is not as big as it is in some other beginner rackets. However, the racket has a decent margin for error for the mishits and tricky strokes.
Head Ti Conquests is one of the most affordable adult tennis rackets that you can buy today. A racket is a great option for the player who hasn't mastered precision yet. The extra length with a decent head size and lightweight structure makes it the best tennis racket for under 100.
8. Wilson Federer Pro Staff Precision Review
Wilson Federer Pro is the next option on the list. This is probably the only racket that works for beginners but we can't say it is only a beginner racket.
The racket weighs 11.5 Oz Offering just the right weight-size ratio that an average player needs on the court. The head size measures around 110 sq. inches and the forgiveness is more than impressive. As a beginner, I loved the larger sweet spot for an increased margin of error. The racket is 27 inches long which makes it a great option for baseline players. The extra length improves the court coverage and enhances the beginner's ability to sustain the rallies.
Like all Wilson rackets, this one also comes with a non-slip grip. The moisture-wicking features keep the palms cool and dry for maximum control. The racket also comes with shock pads that absorb the shock energy and improves the structure stability. Unfortunately, the quality of the string didn't come to my expectations. The open-string design is not long-lasting.
Wilson Federer Pro Staff tennis racket is equally suitable for beginners and intermediates. The racket combines a large sweet spot with heavy head balance for improved hitting efficiency with the right control and power. The easy access to power and a fatigue-free design make it the best tennis racket for under 100.
9. Wilson Burn 100 v4 Tennis Racquet Review
Wilson 100 V4 comes with a standard 16×9 standard string pattern offering a perfect mix of power and spin. The racket is designed for beginner to intermediate-level players and its parallel drilling offers class-leading performance and consistency of the string bed. The 100% Carbon fiber construction and single-piece body make it one of the most rugged rackets in this price range.
The best part of this racket is the dual taper beam construction. Wilson is the first brand to introduce this technology to balance the flex and power in the tennis racket. When a tennis racket hits the ball it flexes for the tip to compensate for the impact energy. It results in power loss making it hard to hit power strokes. The Dual-beam taper racket is made slightly wider where the shaft joins the head.
It reduces the flex without sacrificing the impact performance. The power loss is also minimized allowing the player to hit over the nets even with compact strokes. The lightweight head frame coupled with a bumper guard offers control, maneuverability, and power. The head size of the racket is 100 inches. The sweet spot is not very compact and therefore the error of margin is also pretty low.
wilson burn 100 V4 is a versatile racket that is equally suitable for recreational and pro players. The racket offers the perfect balance between flex and stiffness allowing you to transfer more torque with a little effort input.
10. HEAD Graphene XT Speed MP Tennis Racket Review
Head Graphene XT Speed MP tennis racket is the final option on the list. This is the only racket in this price range that is designed for intermediate to advanced-level players. It is a forgiving and spin-friendly option that you will never outgrow. The racket has been a part of tennis gear for more than 3 years and I simply love it for its spin and easy access to power.
The racket weighs 11.1 Oz when fully strung and ensures maximum torque transfer to the ball with minimum effort. The best part of this racket is the head's graphene XT technology. The maximum weight of the racket is shifted from the shaft to the grip and head of the racket.
This weight redistribution has actually improved mobility and power. With a little power input, it helps you generate and transfer maximum kinetic energy making it the best power racket. It is professionally strung with Head strings and the quality of the strings is also impressive.
Since the racket is designed for intermediate to advanced level players its head size is just under 1000 sq. inches. For a player like me who has good directional control and decent stroke dependability, this head size is just perfect. The overall build quality of the racket is good but I don't like the grip. It felt too soft and slippery and also started peeling off after a few uses.
Head Speed MP is a versatile tennis racket that works equally great on all corners of the court. Unlike other rackets in this price range, the racket grows with your skills and experience. The unique graphene technology combined with a professional-grade design makes it the best tennis racket for those under 100.
Buying Guide
Buying a tennis racket that is perfectly in line with your skill and abilities is crucial and here is everything that you need to consider while buying a new tennis racket.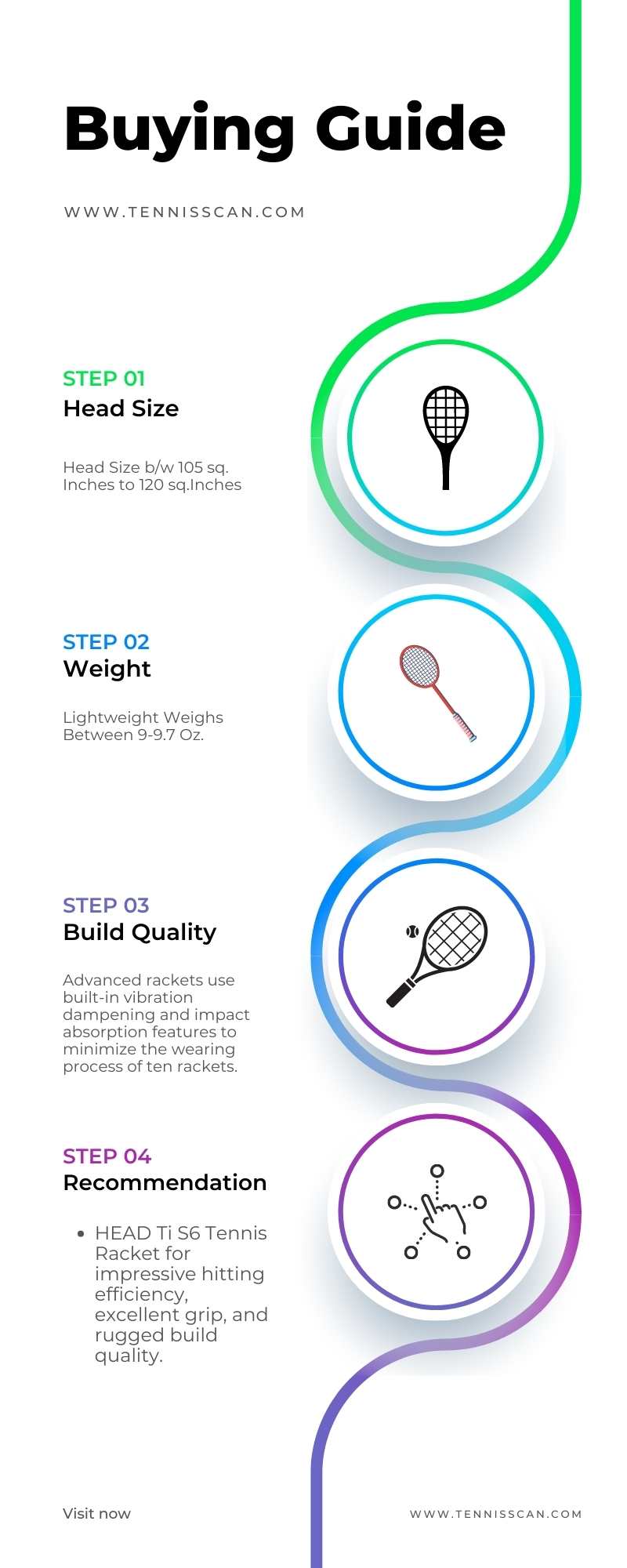 Head Size
Tennis rackets are divided into three categories based on head sizes: Oversize, Mid plus, and Midsize. The oversized racket comes with a head size between 105 sq. inches to 120 sq. inches. The bigger head gives you a big margin of error for those strokes that don't come right at the center of the string bed.
However, a big head size means less control and limited maneuverability. A tennis racket oversized head is a great option for novices. As your skill gets better in tennis you can go for a small head size. Intermediate players mostly prefer mid plus rackets offering head sizes between 98 to 104 inches.
Most average tennis players or players who play tennis for fun use a midplus tennis racket throughout their life. A midsize tennis racket comes with a head size between 85 to 98 inches. These rackets are made for advanced level and pro players who master the precision and have impressive hitting efficiency.
Weight
After a head size of six, the most important feature of a tennis racket is its weight. The weight of the racket depends mainly on frame size and build quality. A tennis racket that is tagged as lightweight weighs between 9-9.7 Oz. A lightweight racket lets you swing faster and improves the ball string contact.
The lightweight structure is usually combined with a big head size to make the racket beginner friendly. As a player graduates to the intermediate level, these tennis rackets feel too underpowered. Most tennis rackets are manufactured under the medium weight category and weigh between 9.8 to 11 Oz. These rackets offer a sweet spot between power and control and most recreational and intermediate-level players prefer them.
Heavy rackets let you hit hard with a little effort but the player should be experienced enough to handle the extra power. Advanced players who have perfect cross-control, depth, and variety prefer these rackets for more power. Also, heavy rackets are ideal for people who have low power issues due to tennis elbow or injury.
Build Quality
Another thing that you must consider while buying a racket under a limited budget is its build quality. A sturdy frame and well-protected string systems are primary requirements for any tennis racket. Advanced rackets use built-in vibration dampening and impact absorption features to minimize the wearing process of ten rackets.
FAQs
Wrapping Up
I'm hopeful that this review guide will help you buy the best tennis racket for under 100. We can safely conclude that most tennis rackets in this price range are built for beginners and recreational purposes. It's good to see that reliable brands like Head and Wilson have introduced some of their best technologies in their budget range tennis rackets. Here are my top three picks from the list:
Choosing rackets that perfectly match your abilities and skill level is crucial to perform well on the court. It is advised to buy a racket that falls in the medium head size and weight category. These rackets grow with your skill level and don't feel underpowered or overpowered no matter at which skill level you are.