Every time there is a new Barricade shoe on the market, most players don't really know what to expect. We all know that Adidas has been on top of the market over the years, never disappointing their customers but what can we say, the fear is there.
But don't worry, this new generation of Adidas Barricade shoes packs all the features you have experienced in previous generations with a whole boost. This one feels even faster on the court, offers incredible stability, and is comfortable enough to be played in for long hours.
Those who have a habit of purchasing their sports shoes from Adidas know how no other shoe brand comes close to the quality that Adidas offers. Their products are made out of high-quality materials, they are performance-oriented, true to size with so many features we cannot possibly put into words.
The Adidas Barricade feels lighter than before while keeping you close to the ground so you can keep hitting hard through those long playing sessions. If you're still wondering whether these shoes are worth purchasing or not then you should continue reading because we have got you covered,
Adidas Barricade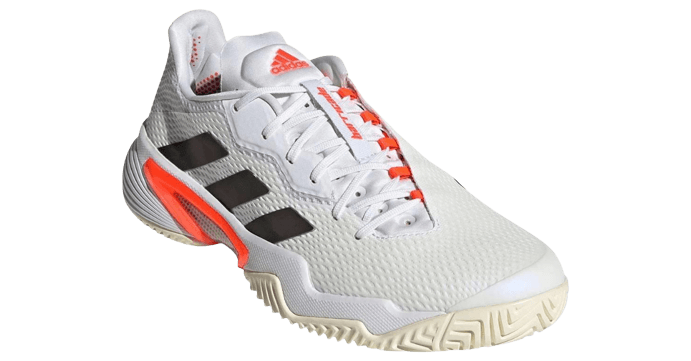 100% Synthetic Leather
Foam pods in the heel
Bounce midsole
Built-in lacing system
Padded, stable, locked-in feel
The thing with this brand is they have offered some of the best tennis shoes in the history of sports. Their quality and durability are unparalleled. The ADIWEAR offers unbreakable outsoles with a lesser break-in period so you can start playing in your new purchase as soon as they are out of the box.
In our experience, the Adidas Barricade even topped our expectations. It delivered awesome traction where it was needed the most. Not to mention, we had stellar results playing with these on and off-court.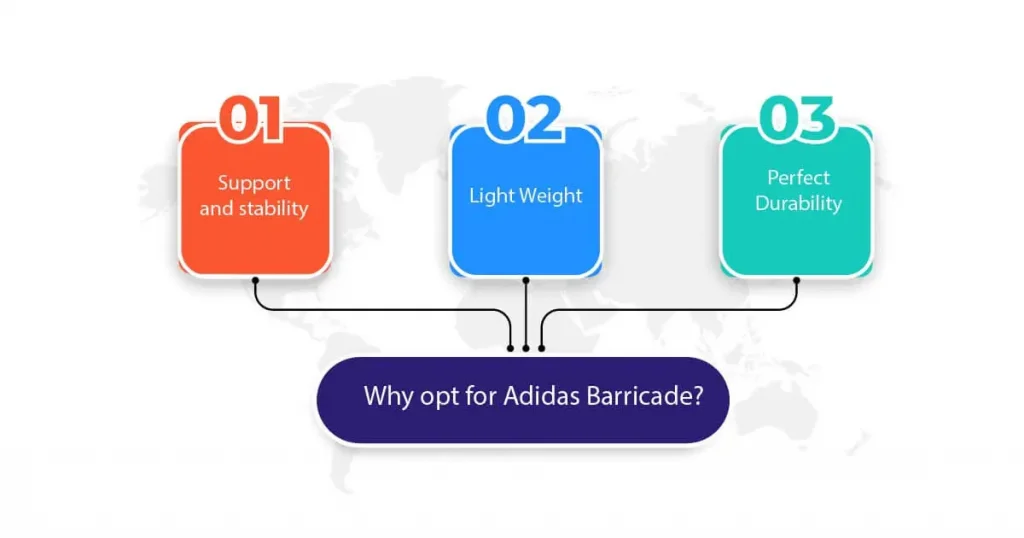 These shoes will instill confidence in your gaming ethic so you can easily make smooth transitions that you thought to be very aggressive before. Yet again, Adidas has come up with a new and improved product with the launch of Barricade that already feels so familiar.
We are further going to talk about all things about Adidas Barricade below. All of its features and detailed aspects have already been discussed for you to go through and understand.
Stability and support on this latest version of the Barricade for me were both stellar. With solid construction and breathable mesh, there was no problem running around on the court, feeling comfortable and confident enough.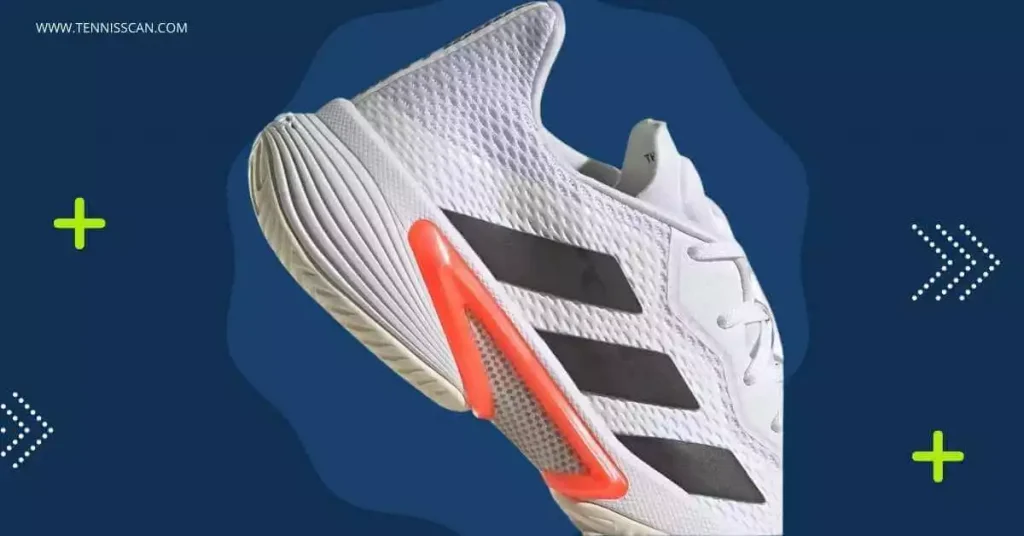 The shoes are great as far as stability is concerned. It nicely contours your feet so you never feel the shoes be tight or too loose. There is also sufficient toe space so there is no pressure on your feet while moving forward.
Read More About Best Tennis Shoes for Hard Court
Of all the Barricade versions we have used over the years, the 2021 version was the soonest to break in. The only thing you need is a few hours on the court and the shoes will feel far more comfortable than before.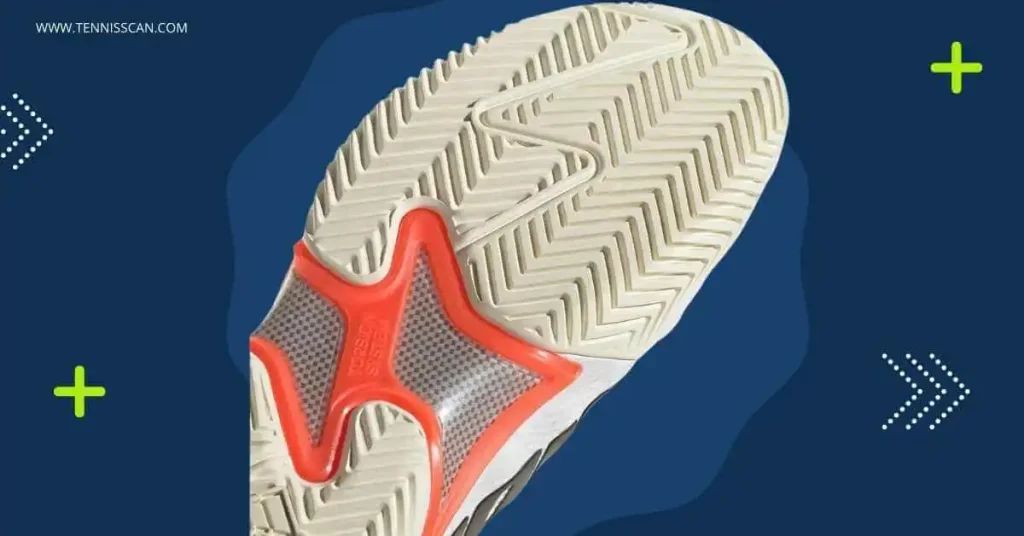 It features a Bounce 2.0 Foam that delivers optimal comfort and ensures your feet remain snug throughout the time you have them on. The added cushioning also provides you with the utmost responsiveness when running around on the court.
Ever since the Barricade came into being back in 2000, durability has always been its selling point. The best part is, that has never been compromised even in the 2021 version.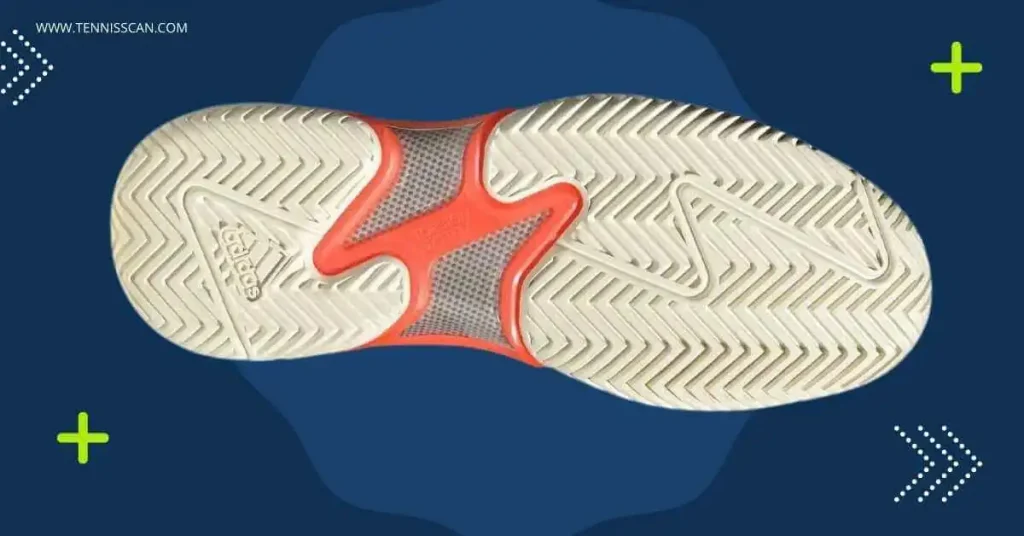 The outsole of these shoes feels unbreakable. Though the company has brought the cost down that didn't affect the quality of the shoe even in the slightest. We have used these shoes for even 20 hours continuously and still the tread pattern hasn't shown any loss. The outsole longevity definitely gets a 10/10 from us.
Unlike the previous version where we had reservations with the traction pattern, the newest Barricade gave us confidence in the court from the start till the end. They don't feel slippery at all. With a dense and grippy traction pattern, you will be able to maintain your balance on the court while running around.
We highly recommend these shoes for players who require quick footwork and would prefer a shoe that made it easier for them to slide on the court.
Last but obviously not least, this generation of Barricade took a huge leap of faith where the item weight was concerned and made sure it was light as a feather. One of the major things that impact a player's game on the court is how heavy his feet feel while playing. Lucky for us, the Adidas Barricade's weight had no bearing on our gaming efficiency.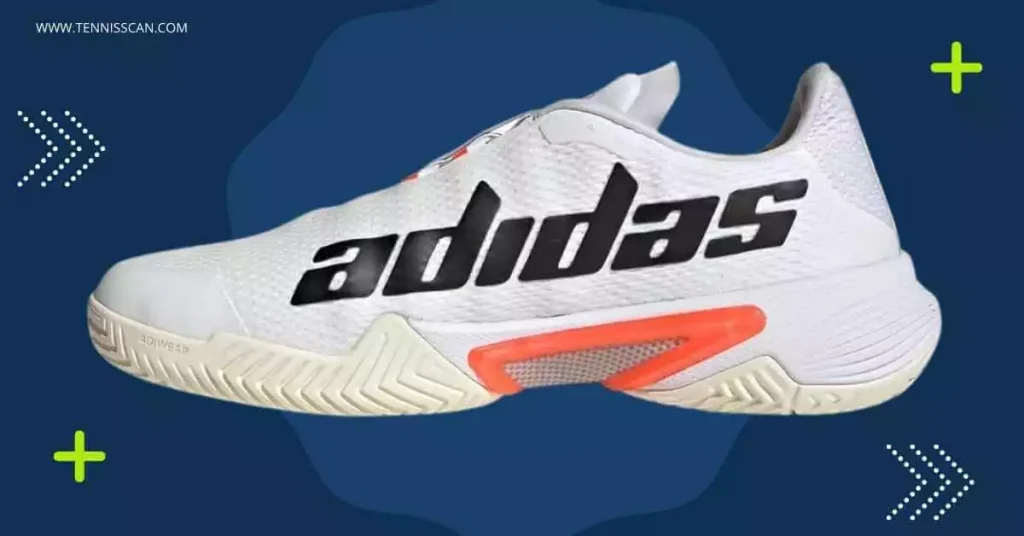 We found the weight of Barricade 2021 to be lighter than that of 2018. It made the shoe to be very easy to maneuver and did make all those tricky transitions a whole lot easier. With a great weight-balancing technique, your feet will feel really fast on the court and not weigh down your performance.
Pros
Extremely durable
Better stability
Lightweight construction
Looks aesthetically pleasing
Cons
Lacing system needs improvement
Conclusion
We will conclude our discussion on Adidas Barricade with the purview that it offers stunning on-court stability with a dynamic outsole that feels unbreakable. In our experience, we did do some rigorous testing with this bad boy and every time, it didn't disappoint us at all.
Though there were a few bumps here and there. We do believe the lacing system does need some improvement because, at times, we would feel our feet lift in the air when running. That was a bit uncomfortable but nothing too serious.
Overall, the Adidas Barricade is a tennis shoe worth purchasing. With its lightweight technology, breathable mesh, and added cushioning, we don't suppose anything can go wrong. Though, we would love to hear your feedback on this if you have had a first-hand experience with these shoes.
FAQ'S:
What are the benefits of wearing Adidas Barricade tennis shoes?
Adidas Barricade tennis shoes are known for their shock absorption that keeps the wearer comfortable and healthy. They may also last a long time and provide good grip, sometimes even suitable for use on natural terrain such as grass courts.
What is the difference between the Adidas Barricade shoes and the Adidas Barricade 2?
The Adidas Barricade is a cross-training shoe with more cushioning. The Barricade 2 has the same upper design, but the insole and outsole have been changed to better adapt to different sports.
Are the Adidas Barricade tennis shoes waterproof?
Yes, the shoes are fully water-resistant and can be worn in even the most extreme weather.
What is the difference between the Adidas Barricade and Adidas Barricade 6?
The Barricade 6 is a premium running shoe with an air mesh upper that offers stability without the need for laces. The Barricade shoe also has a sturdier heel counter and durable Continental rubber outsoles.