Does height matter in tennis? If so, what is the average height of tennis players? This is the ongoing argument we see on tennis forums and in neighborhood tennis clubs. If we examine the history of tennis, height is not a significant factor in the players' performance.
Tennis is a sport where height is essential. Although taller players serve faster and strike better angles, shorter players typically have a greater sense of balance. Those with heights between the ideal 185 and 190 cm typically thrive in both.
Players at the extremes of the spectrum will excel in one area but fail in another. The ability to hit the ball and reach higher balls is more advantageous for taller players. Some claim that taller players face an unequal playing field because of their height.
Does Height Matter In Tennis?
To compete with shorter opponents, tall players maintain a low center of gravity and move swiftly throughout the court. Additionally, they are able to serve well and hit a solid backhand. Strength, speed, agility, and hand-eye coordination are additional factors that affect tennis success in addition to height.
Sometimes height matters in tennis. Taller players can typically serve more efficiently than shorter players. Short players who are successful on the tour typically accomplish so by moving and returning better than their taller competitors.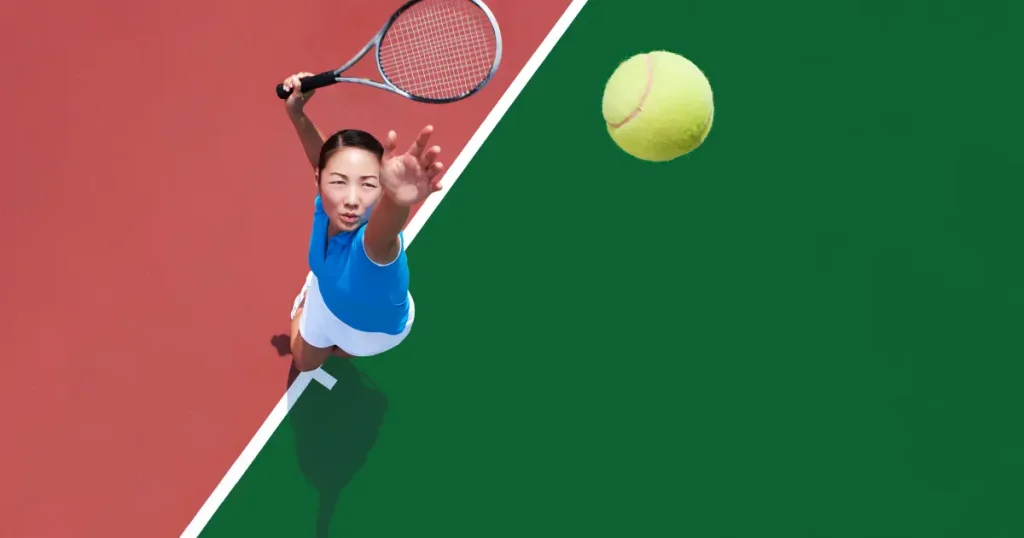 According to popular thinking, height matters, but only to a certain extent. An inch or two above six feet (between 185 and 190 cm) is acceptable, but anything more is excessive. No player taller than Marat Safin's 6'4″ (193 cm) climbed to the top of the ATP rankings.
What Is The Average Height Of Tennis Players
Tennis undergoes a significant transformation during the past 30 years. New technology (like hawk-eye) is invented, new materials are used in tennis racquets, and even the regulation is altered. Tennis players in the present are more powerful, resilient, quick, and even taller.
In the 1980s, it is the possibility for players who are taller than 6 feet 5 inches to run around the court and play 5-hour matches. But nowadays, this is a typical occurrence on the ATP tour. Four of the top ten ATP athletes stand at least 6 feet 5 inches tall.
Additionally, 26% of the top 50 players, or 13 of them, are taller than that criterion. Taller tennis players are having more success, and height is becoming more important in tennis every year. But when does height start to benefit a player's performance?
The best 500 male tennis players in the world are 185.5 centimeters tall on average (6 feet 1). The average height of a professional tennis player is 183 to 188 cm, which is measured by 222 of the top 500 players.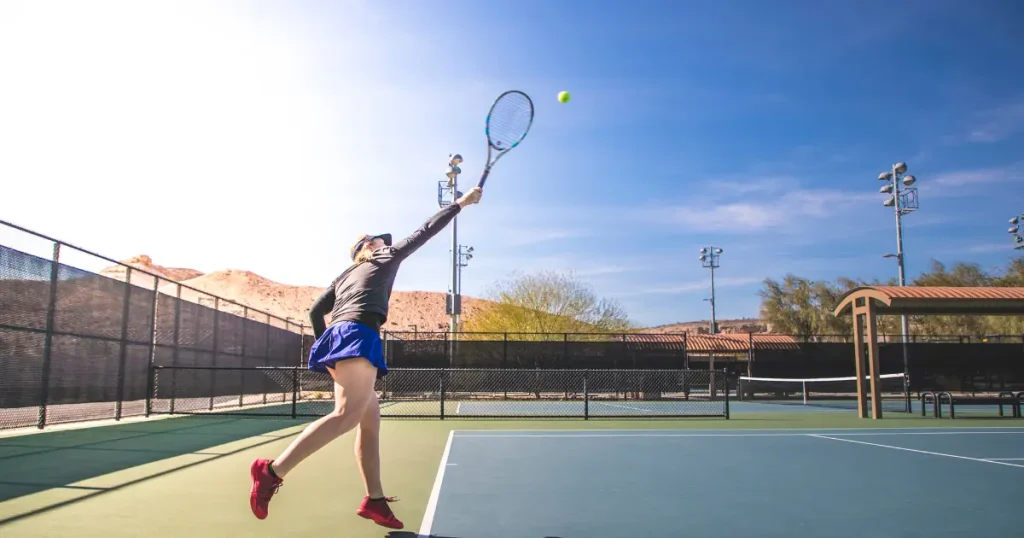 Shorter Tennis Players Deals With Taller Opponents
Tennis is a game where athletes of various heights can participate on an even playing field. Height can, however, be a benefit and a drawback in any sport. Male and female players who are taller frequently find it easier to generate force behind their shots. They also have an edge over shorter opponents in terms of reach.
Taller players find it more difficult to move laterally and thus more prone to injuries. Because of this, shorter players frequently use tactics particularly to use their height to level the playing field.
Shorter players rush the net more often to stop their opponents from taking advantage of their reach. To force taller opponents to change positions, short players also use drop shots and lobs. Shorter players can compete on an equal footing with taller opponents by employing these and other tactics.
Average Height For Female Tennis Players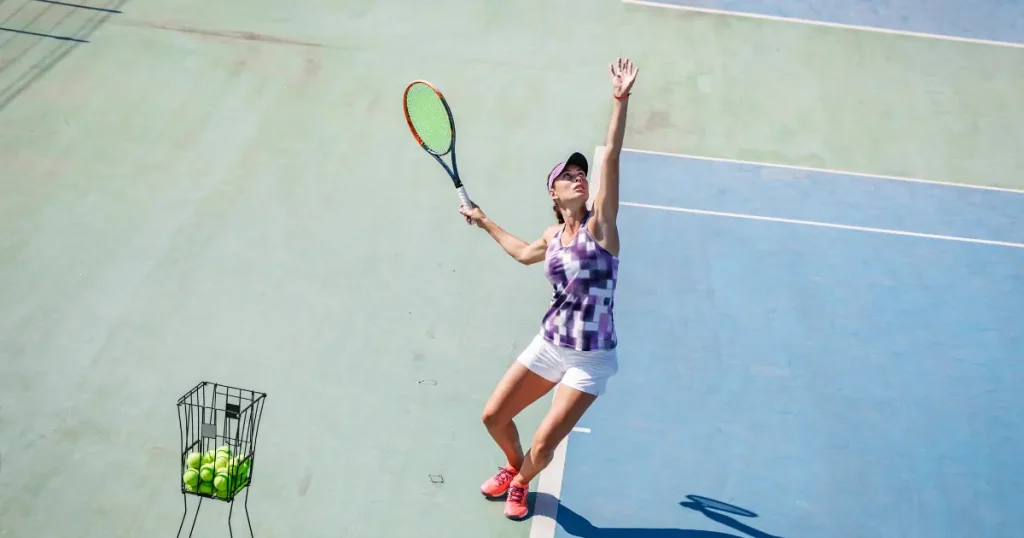 The height of female athletes is increased over time, going from 5'7″ to 5'11". (5 feet 7 inches to 5 feet 11 inches). Lindsay Davenport, Billie Jean King, May Sutton, and other figures from the 1990s like Maureen Conolly are among the tallest female athletes in history.
The list of historically tallest female athletes is extensive. The most successful tennis player of all time, Maria Sharapova, is one of the tallest women playing today. Sharapova is not only the tallest but also the most attractive tennis player in the world.
The athlete's height does not have a significant impact on the game. Felicisimo Ampon, the shortest player at 4 feet 11 inches, is regarded as the best tennis player. Even so, the player's height can assist them to get better at tennis.
Sarra Erani, a well-known example of a diminutive female player, is only 5'4″ tall. Dominika Cibulková, who is 5'3″ tall, is even shorter than Sarra. These women are playing tennis in a useful way despite their little stature.
Average Height For Male Tennis Players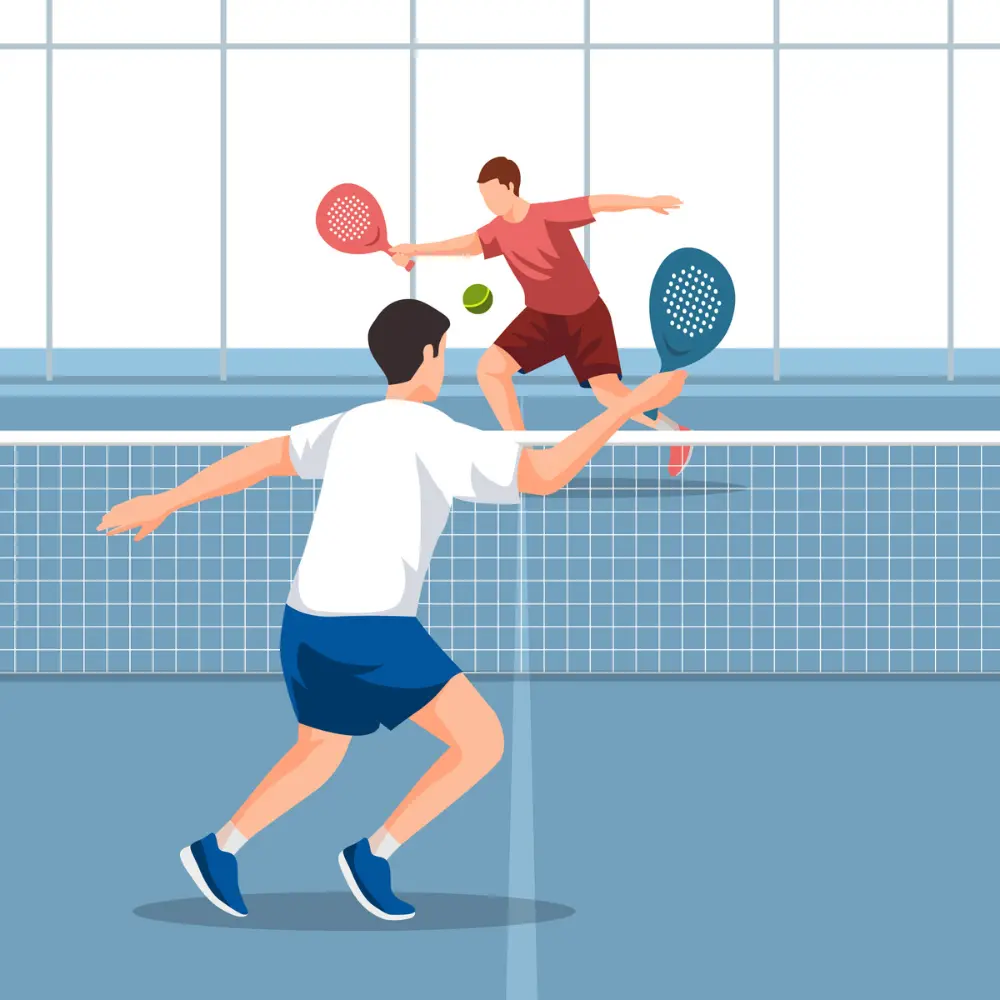 When watching tennis on television, it is often challenging to determine how tall the players are. However, they are frequently much taller than you anticipate when you encounter them in person.
Male tennis players like Nadal, Federer, and Djokovic are not particularly tall, but they are extremely talented. The best 5 male players, along with their heights, are listed below.
Ivo Karlovic: 6 feet 11 inches tall.
Reilly Opelka: 6 feet 11 inches tall.
John Isner: 6 feet 10″ tall
Jerzy Janowicz: 6 feet 8 inches
Kevin Anderson: 6 feet 8 inches
Top Shortest Tennis Players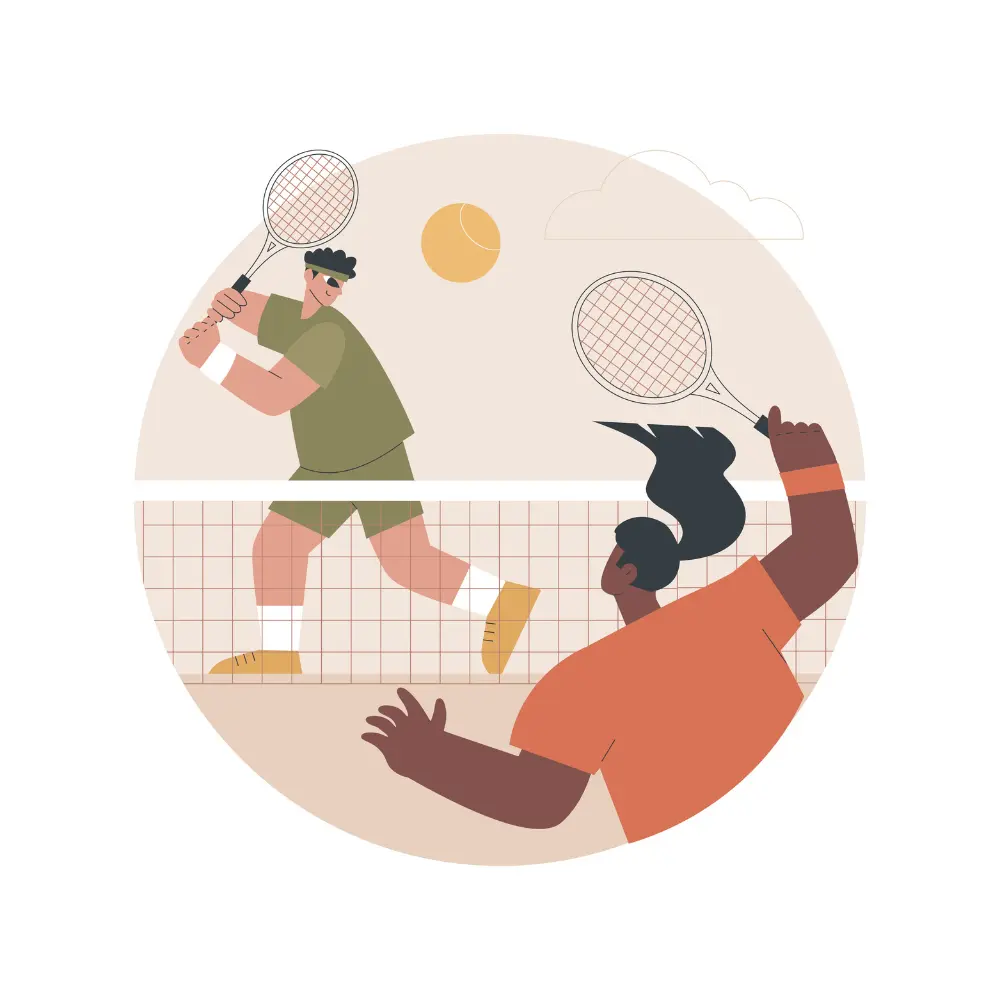 Let me disprove your assumption that you can't play tennis at a high level due to your tiny stature. Many short tennis players in history have had successful careers. Short doesn't stand in the way of your ambition to play tennis professionally.
Shorter players can still dominate the game. I've personally seen a lot of tennis players who aren't as tall as the tall players but they're skilled. In tennis, they face equal opposition. The names Kei Nishikori, Goffin, Fognini, etc. are a few examples. Here is a list of the top shortest players:
Olivier Rochus: 5 feet 5 inches (168 cm)
Yoshihito Nishioka: 5 feet 7 inches (170 cm)
Diego Schwartzman: 5 feet 7 inches (170 cm)
Rod Laver: 5 feet 8 inches (173 cm)
Damir Dzumhur: 5 feet 9 inches (175 cm)
David Ferrer: 5 feet 9 inches (175 cm)
Ricardas Berankis: 5 feet 9 inches (175 cm)
Micheal Chang: 5 feet 9 inches (175 cm)
Marcelo Rios: 5 feet 9 inches (175 cm)
Benefits For Tall Players In Tennis
A tennis player's height is either short or long. Due to their relatively distinct playing styles, there is a lot of competitiveness. On the court players with the tallest frames have several distinct benefits. In actuality, top players are also mentally tough. These players are excellent servers.
They have no trouble playing and moving around. These players are more likely to serve at a right angle. They can also guard against making mistakes themselves. They can easily strike above the net at a faster speed because of their towering bodies.
Drawback For Tall Tennis Players
It isn't incorrect to suggest that tall tennis players have an advantage over shorter ones. On either side, they have difficulties when it comes to playing on various court surfaces. It is a challenging game for them because of the size of the court.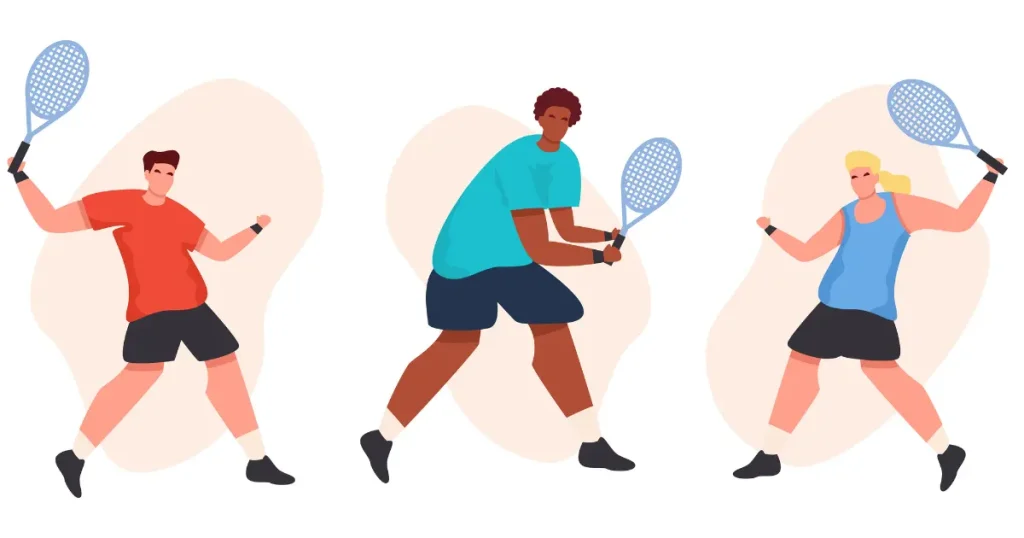 On a clay court, a tall player can control serving and stroke bounce. It will be a little challenging for him to maintain his balance and move more quickly when he needs to sprint around to make the shot.
When playing on a hard court, tall players experience discomfort. Their knees and backs may experience pain or strain as a result of the game's abrupt starts and stops.
FAQ'S
Do you need height to play tennis?
Tennis players that are taller find it more difficult to return serve. Because of the server's potential for power, height, and bounce. Ivo Karlovic, the tallest player in history at 6'10", can serve at a speed of 251 kilometers per hour.
Can someone who is short play tennis?
For reach, pace, and angles at the net, on groundstrokes, and particularly on the serve, size does matter. By no means does being short in stature disqualify someone.
What height is required to play tennis?
An indoor tennis court is at least 9 meters above the net line. The ceiling is 5.75 meters above the baseline and 4 meters over the runback's back (the distance behind this baseline).
Do short tennis players have an advantage?
Height has a benefit and a drawback in any sport. Male and female players who are taller frequently find it easier to generate force behind their shots. They may also have an edge over shorter opponents in terms of reach.
Why is tennis such a mental challenge?
In tennis, there is both active time and "dead" time. The ball moves quickly and the player must make decisions quickly on his next move. In a regular match, a player must make about 1000 judgments.
Conclusion
It appears that height matters when playing tennis. Taller players have an advantage over those who are shorter. This does not imply that shorter athletes cannot succeed in the sport. Players who are shorter than average employ a variety of strategies to offset this disadvantage. Success in tennis also influenced other elements including strength, speed, and agility.