What is the one thing you look for when searching for the best tennis shoes for everyday use? We are not sure about you but we do look for something that can speed up our transitions and make running around on the court feel smoother than before.
Now, meet the Asics Solution Speed FF, the fastest tennis shoes on the market that are determined to up your game.
The shoes have been endorsed by David Goffin, Julia Goerges, and Coco Vandeweghe. This is an upgrade to the predecessor, Gel Solution Speed III, featuring Flyte Foam that makes these shoes far more lightweight and comfortable than ever before.
Another added feature of the Solution Speed FF Tennis Shoes is the integration of Flexion Fit. This makes these shoes feel even more stable while offering better ventilation, stability, and support.
But these are all the promises that Asics has made to us when it comes to these babies. The question we should ask is, does the Asics Solution Speed FF actually deliver what the brand promises? Let's find it out below.
Why did we opt for Asics Solution Speed FF?
Asics Solution Speed FF Review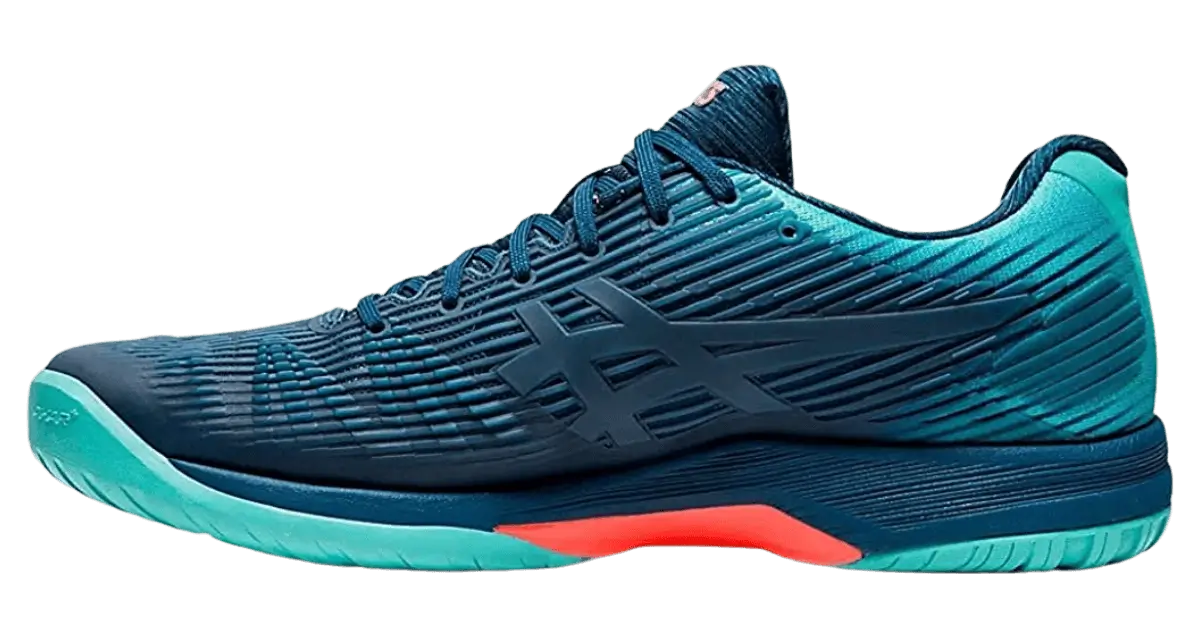 Rubber sole
Synthetic and Mesh
Removable Sockliner
Twisstrust System
AHAR Outsole
FlyteFoam Midsole Technology 
The latest addition to the Asics Solution Speed family combines the best qualities of their top-selling tennis shoes i.e. Gel Court FF and Gel-Solution Speed 3. Hence, you get the flagship lightweight shoe that is designed while keeping optimal performance in perspective.
The Solution Speed FF Tennis Shoe features a PU upper that is designed to complement the robust design of this tennis shoe. Not to mention, the material also keeps the footwear from getting worn or torn which is all one can ask for.
To give you a better perspective on these shoes, we are enlisting all the major features of Asics Solution Speed FF below so you can read for yourself if it's worth spending money on or not.
Comfort
Since this is a speed oriented tennis shoe, we thought it would compromise on the cushioning since it is supposed to be lightweight but Asics found another way to balance both aspects. The Solution Speed FF Tennis Shoe features Flyte Foam that delivers a soft feel throughout the playtest.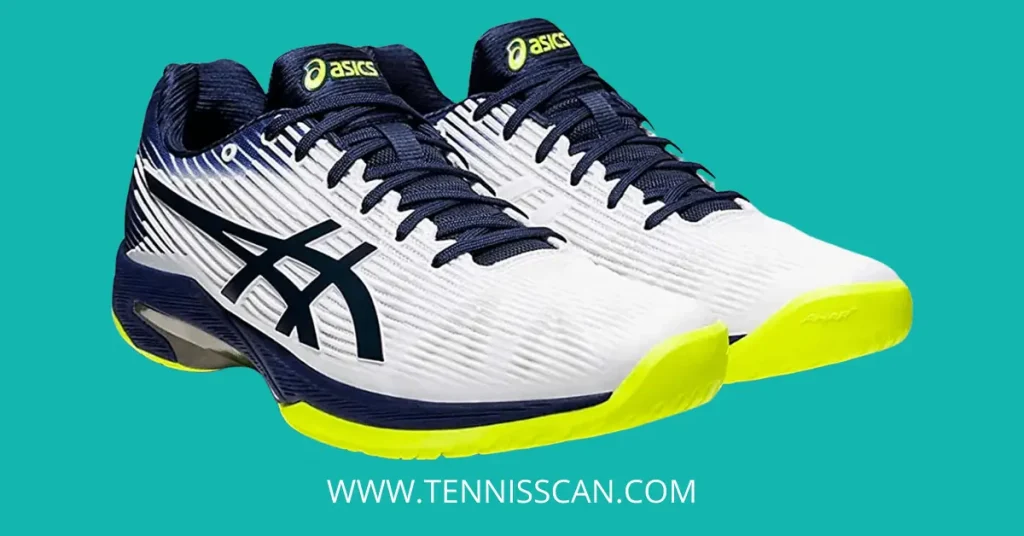 You will not find a lot of ventilation in the toe space like most high-end sports shoes do but there is still a little bit of room that makes this pair breathable enough.
Read About Nike Air Zoom Vapor X HC
The tongue on this bad boy is extra thick that will lock your feet inside the footwear. Though the lacing system isn't as efficient as we thought it will be the thicker tongue does make up for it.
Stability
Despite its lightweight, we found the Asics Solution Speed FF to be highly stable and supportive enough on the court. While we were playing a rigorous game, the shoes gave us a sufficient amount of confidence to slip through the cracks.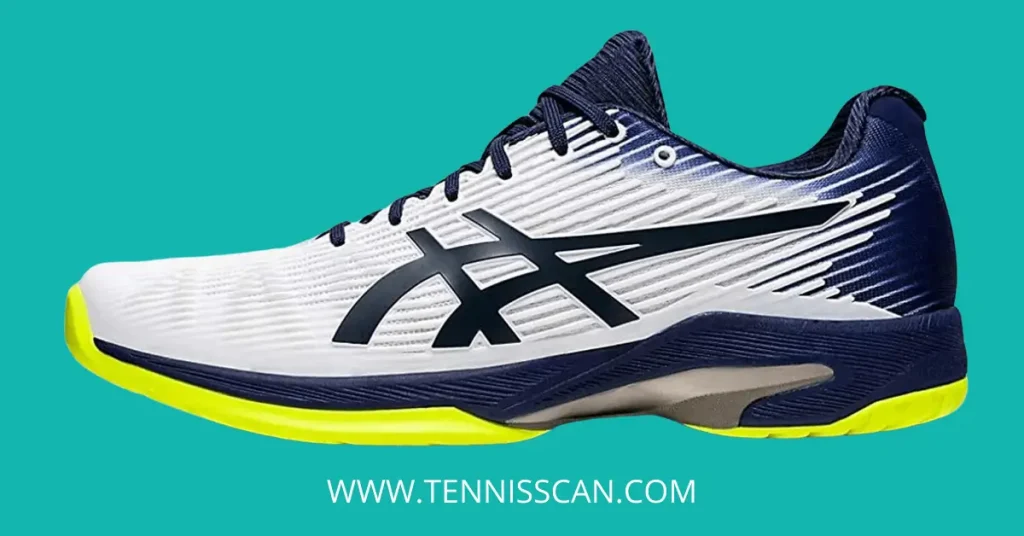 If you happen to be someone who is happy with not having too much ankle support, then these tennis shoes have got you covered.
Durability
Durability is a big question mark where lightweight sports shoes are concerned but since you will be using the Asics Solution Speed FF on clay courts, it won't be that big of an issue.
This tennis shoe features AHARPLUS which features a solid toe protector that is great for players who may want to slide on some shots while dragging their feet to serve on the others. If you plan on playing on hard courts, the Asics Solution Speed FF has the best outsole. It is unbreakable with a herringbone traction pattern that can promise utmost stability while keeping you connected to the ground.
Weight
The Asics Solution Speed FF is among the lightest tennis shoes on the market. The fact that it doesn't weigh that much is what makes it a speed-oriented shoe.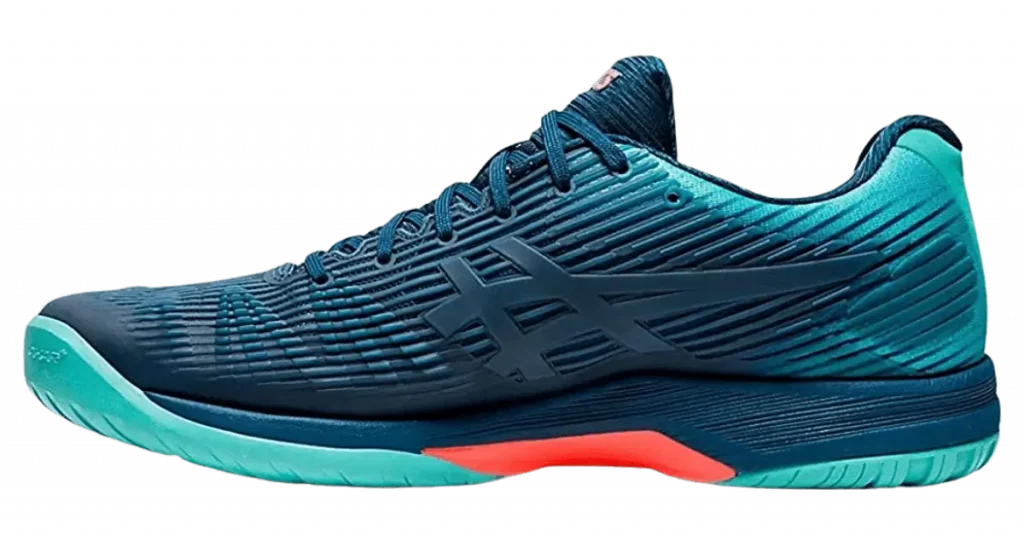 Once you put this pair of shoes on, you will be speeding forward and backward on the court without even realizing it. The Solution Speed FF is a great choice for beginners who don't wish to invest in extremely expensive shoes and would rather go with affordable options.
It is also available in a plethora of colors so you can pick one that suits your sensibilities best.
Pros
Lightweight yet stable
Dirt-repellent upper mesh
Durable outsole
Available in a wide range of colors
Definitely ups your speed on the court
Cons
Aren't very durable
Narrow fitting
Not as comfortable as we had hoped
Conclusion,
The Asics Solution Speed FF is an amazing tennis shoe that promises an incredible amount of stability in a very lightweight package. It comes with all the features of tennis shoes that we usually find in bulkier options but Asics has minimized the volume of Solution Speed FF while making it lightweight.
It weighs lighter than most tennis shoes on the market yet feels durable and stable enough to deliver optimal performance on the court. The Asics Solution Speed FF also offers a sufficient amount of support around the ankle bone without feeling too tight or too loose. You will have a decent grip on the clay while the shoes allow you to slide down on the court.
However, we also cannot deny there were several bumps in along the way. The Solution Speed FF will need some breaking in time. It isn't recommended for people with wider feet and we also don't suppose it is as durable as some of us have wanted it to be.
Nonetheless, at an affordable price point, this is a decent enough tennis shoe that is going to have you speeding through the court. You can choose from a wide range of color combinations plus the aesthetics are to die for.
If you happen to be someone who is willing to purchase economical tennis shoes with no guarantee of how long they will last, the Asics Solution Speed FF Tennis Shoes are the one for you.
FAQ'S
Do Asics Solution Speed FF tennis shoes have the best support for flat feet?
Yes, Asics Solution Speed FF tennis shoes are the best for flat feet. Our shoes were built with the best support for people who have ever had flat feet. The extra padding helps alleviate many common foot problems including heel pain and nerve pain.
Are there any differences between the Solution Speed and the Solution Speed 2 tennis shoes?
Solution Speed and Solution Speed 2 are made by Asics. There are no functional differences between these shoes because they are based on the same design.
Do Asics Solution Speed FF tennis shoes come in men's sizes too?
Yes, they are available in men's sizes also.