The first thing that came to mind after hearing this word is a racket! Well, the whole tennis gameplay depends upon the racket. As a junior player what you exactly need to do to take your game to the next level is to get the best compatible piece of accessories. And that exactly is a racket here. It's necessary to focus on the racket you're purchasing because the right tennis racket assists your kid in learning the next level game.
It helps them with outstanding performance, better control, and adequate balance. The things that you have to put your attention to while looking for a kid's racket are durability, lightweight construction, pre-strung manufacturing, affordability, and adequate sizing. I have this list of the 10 best junior tennis rackets for you here in this article, so that the racket you purchase for your kids can give them the best possible performance.
Let's look at the in-depth details below!
10 Best Junior Tennis Racket 2023
The best tennis racket comes with lightweight construction, and durable manufacturing, and is most of the time pre-strung and pre-assembled. Let us discover the following 10 best junior tennis rackets and look at the specs and features that make them stand in our top 10 positions among so many other options available in the market.
1. Babolat Pure Drive 26 Inch
Babolat Pure Drive 26 Inch Tennis Racket is one of my favorites, personally used, and well-known tennis rackets belonging to the highly reliable brand Babolat. This tennis racket is known to provide the easiest handling ensuring your kid can hold the racket for longer without feeling strains or pressures on his hands or arms.
Moreover this tennis racket is not only comfortable to handle but also is very high quality in its construction and is made specifically for kids between the ages of 9 to 12. The presence of an inbuilt cortex system helps the kid with control and spin. Such technology maximizes the control with each hitting ultimately assisting your child to develop the best confidence while playing the game.
One of the unique things about this racket that is not present in other rackets is the presence of a safety cover. This safety cover makes your racket safe mainly when you are traveling with it from one place to another. Additionally to this, since it is pre-strung, you don't have to worry about strings and their tightening.
2. Head Radical Junior Tennis Racquet
Head is one of those companies that have a wide range of junior tennis rackets, made for junior players. This company is reliable so you can select any of the rackets and can give it to your kid to enjoy the best tennis game. Moreover, this Head Radical Junior Tennis Racket is another best tennis rackets with graphene construction ensuring advanced movements, high stability, and outstanding power deliverance.
This tennis racket provides the kids with plenty of control so that they can play the game continuously while making the best accurate shorts every time they hit. Moreover, the possibility of developing spin with the use of this tennis racket makes it more in demand and reliable for those parents who are looking for the racket to help their child learn new types of shots.
Additionally to this, whether your child is a beginner tennis player or a professional tennis player, this racket will serve him exactly as he needs. It is not only easy and comfortable to hold and feel, but also is the one that comes with consistent efficient performance.
3. Babolat Pure Aero 26 Junior Tennis Racquet
Babolat Pure Aero 26 Junior Tennis Racquet is the third-best junior racket that is specifically designed for high-level junior players. This is one of the most outstanding tennis rackets that resembles a full-size adult racket and delivers lots of spins and lots of winning shots every time the kids play.
Graphite composition in combination with a head size of 100 gives your kid outstanding confidence to make straight, clean, and finest shots, every time they play. If your child is between the ages of 9 to 12 years old, you can reliably purchase this tennis racket to make them feel like they are playing professionally, even when they are practicing.
Moreover, the availability of dual sizes that is 25 inches and 26 inches gives you the choice to select from the adequate size according to your child's age. Additionally to this, the racket not only helps your child in boosting his game but also makes it easier for him to play the game as it comes with advanced technology making sure power and control, while hitting.
4. Head Gravity Junior
Next is one of the widely popular kids' tennis rackets, the Head Gravity Junior. This is one of the widely used and positively reviewed junior racquets that come with excellent construction quality and tremendous power. The presence of outstanding vibration-dampening features makes sure that your child stays away from injuries and shocks.
The graphite and graphene combination of construction makes the racket durable and high in quality. Moreover, it comes pre-assembled ensuring you don't have to worry about tying the strings to the frame. Moreover, 26 inches size makes it reliable and trustworthy for kids over the age of 10.
Moreover, the construction of this Head Gravity Junior Tennis Racket is done in a way that makes it possible to provide additional power and superb control to the player so that he can make the best possible shots easily. This is why this tennis racket is slightly expensive but is worth spending money on. Additionally to this, in the presence of great spin control, your child can learn every type of shot including the smash shots, spinning shots, fast shots, and straight shorts quickly.
5. Babolat B'fly Junior Racket
Babolat B'fly Junior Racket comes with all those features that you look for when purchasing a tennis racket for your kids. It comes with next-level technology and is the easiest-to-use racket that makes it the ideal choice for most parents. The presence of high comfortability in the grip region makes sure that your child can hold the racket with a strong grip.
This ultimately results in making them feel they have full control over the movements of the racket. Moreover, the compact, lightweight design makes it easier for the kids to swing the racket and keep the head of the racket in the right, accurate position so that they can make the shots as precise and accurate as they want.
Moreover, the availability of this Babolat Racket in 4 different sizes gives you the choice to select the best compatible size according to your child. Comfortable grip, lightweight design, and availability in different sizes not only help in playing the game in a better way but also minimizes the injuries that otherwise can harm the kid in a bad way.
6. Wilson Pro Staff V13.0 Junior Racket
Wilson Pro Staff V13.0 Junior Racket is another best junior tennis rackets that offers undoubtedly excellent playability and an unmatchable feel. It is one of the great choices for kids who look for tennis as a profession. Once you play with this racket I can assure you that you will never want to switch to any other product.
This is because the comfort it provides the kids with is unparalleled by any other racket on this list. One of the most inspiring features of this racket is that it assists the kid in taking his game to the next level. Moreover, the product is not only light in weight but also comes with a pre- trunk ensuring you don't have to struggle with strings.
If you are looking for a racket to give your kid spin, balance, and outstanding control while playing the racket, this would be something worth spending money on. You can provide your kid with lots of control, lots of power, and lots of spin with the purchase of this one single tennis accessory, the great Wilson Pro Staff V13.0 Junior Racket.
7. Wilson Junior Pink Burn
Wilson Junior Pink Burn is one of those tennis rackets for kids that I personally have bought for my son. Those junior players who are just starting their tennis playing can rely on this Wilson junior Pink Burn Tennis Racket to help them with their game and improve it and take it to the next level within no time. The racket is known to be the lightest in weight choice as compared to others in this list of top 10.
This lightweight construction and finest design make it very easy to control, ultimately helping the kids make the shots exactly accurate. Moreover, the presence of an oversized head provides you with an enjoyable experience of playing tennis, making it one of those rackets that players love to play with.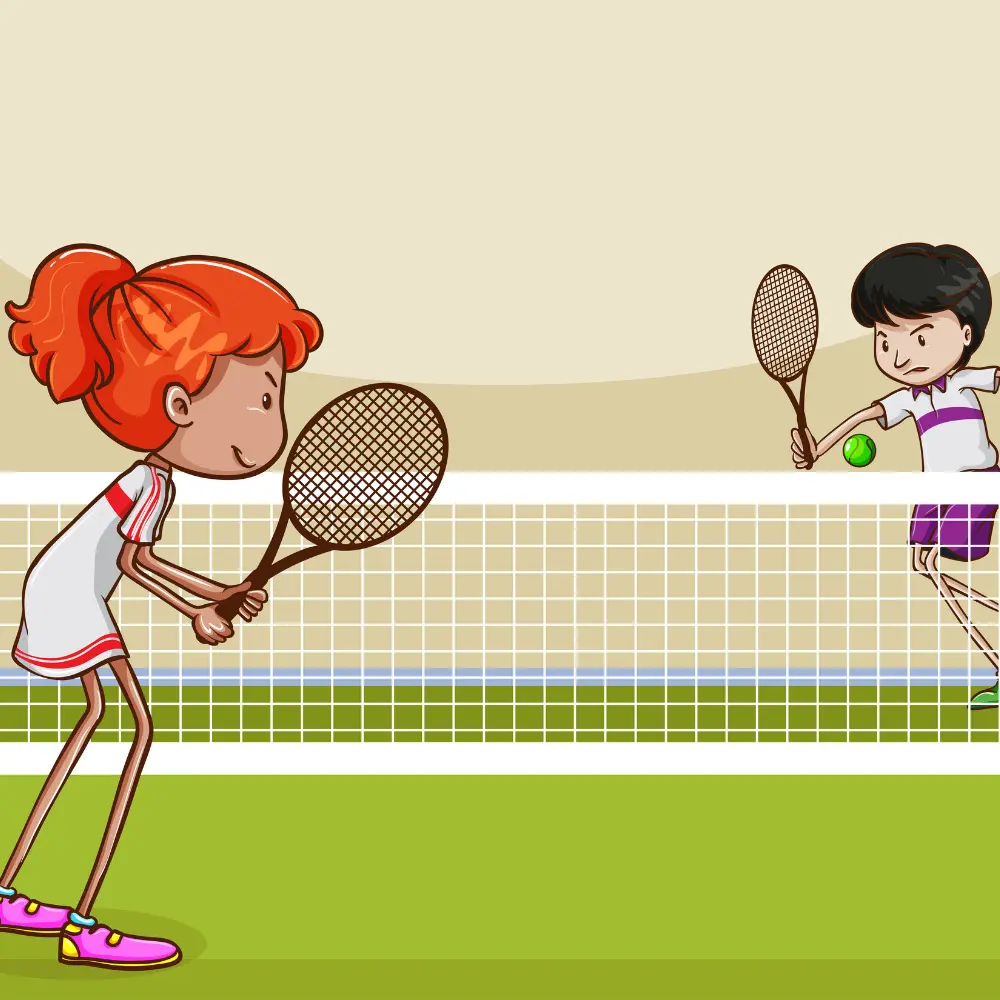 Moreover, aluminum construction makes the racket rust-free and makes sure you can use it repeatedly for most of the games, without worrying about changing the frame strings or tying it again and again. Additionally, this comfort makes it a more popular and more in-demand tennis racket for junior tennis players.
8. Wilson Serena Williams Junior Tennis Racket
Wilson Serena Williams Junior Tennis Racket is the eighth-best junior tennis racket that belongs to the same company which we have selected our last two products from. Wilson! Wilson has been in the field of manufacturing sports gear for the last many years. You cannot doubt the quality and functioning of the products belonging to Wilson. That is why I have selected most of my products from Wilson since they construct highly qualitative, and adorable products.
This is one of the best reliable tennis rackets for beginners that not only is lightweight in construction but also is very easy to control and aerodynamic in construction. The affordable price makes the racket ultimately popular as most parents look for budget-friendly rackets for their kids learning tennis playing.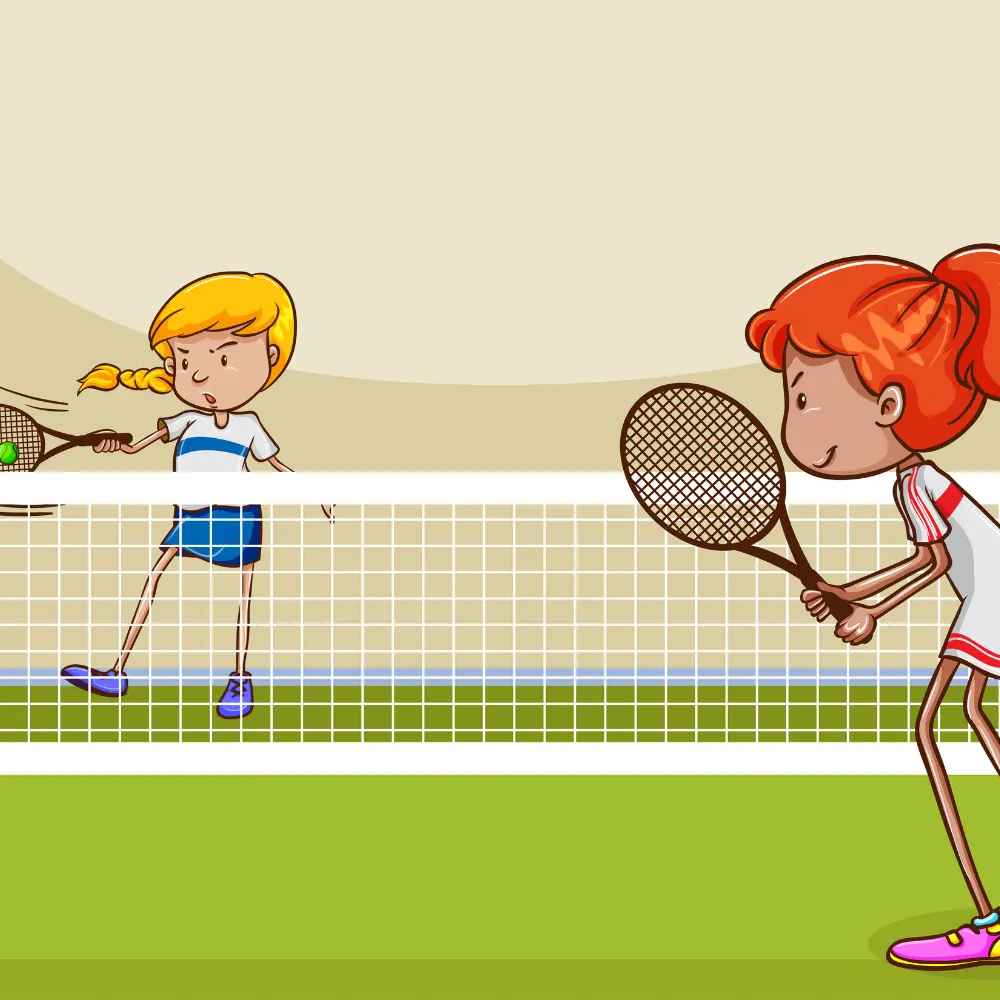 The racket comes pre-assembled and is made mainly for players from 5 to 7 years old. The presence of oversized sweet spots provides great control to your kids and makes them feel confident and more passionate about their game. Additionally to this, the lightweight design makes the racket easier for junior players so that they can play better and play more productive games.
9. WILSON Unisex-Youth Ultra Rackets
If you are looking for the best junior tennis racket between the age of 9 to 10 of your kids then going with WILSON Unisex-Youth Ultra Rackets would be a great choice that you can make. The graphite construction material ensures durability, rigidity, and strength for the player.
If your kid is just starting his game of tennis, this racket will be his best friend throughout the time of his learning age. The construction with the use of the latest technology and latest setup, makes it not only popular but also reliable and highly positively reviewed.
Since I have bought this racquet and have observed that my child learns advanced-level skills within no time, I will recommend you to go with this model without complicating yourself and confusing it with other choices. If you want your child to learn advanced tricks like spinning, smashing, and fast hitting of the shots with control and power, then this racket will serve you the purpose.
10. Yonex VCORE 26 Inch Junior Tennis Racquet
Yonex VCORE 26 Inch Junior Tennis Racquet is the best junior tennis racket that is 26 inches in size and comes with the exact construction that you look for when you are purchasing the tennis racket for your kid. The presence of graphite construction not only provides strength to the racket but also makes sure your kid uses it not only for learning sessions but also for tournament plays later on.
Moreover, the availability of this tennis racket in tango red color makes it look beautiful and appealing in the player's hand. This makes sure your kids can stand out among other players when playing tennis with their age fellows in competition.
Additionally to this, if you are looking for a tennis racket to give to your kid who is between 9 to 11 years of age, this is one of the best lightweight designs that offer the best spinning and high speed. Such construction also helps your kid play the best game every time he plays.
FAQs
Final Thoughts
This above-mentioned article tells you about the 10 best junior tennis rackets that are all widely popular because of their performance and their construction. All of these products are selected based on their reviews made by the users and the performance they offer the kids.
Since kids look for easy-to-control and effortless usage rackets, mainly when they learn the game, all of these rackets are the same in this regard. Regardless of the position of the product, whatever you select, your child will end up having the best experience of learning tennis in the presence of the best accessories with him.
I because being a professional tennis player and researcher will recommend you to go with,