Tennis demands skill and super quality equipment if you want to enjoy the real essence of this game. And most players who want to polish their skills in real meaning seek durability in their equipment, especially the racquet. The main element of a tennis racquet is its string that must bear the routine wear and tear; otherwise, it will spoil your game.
Head Sonic Pro is one of the best Head brand creations because it is a nice blend of power, control, and durability, along with an amazing feel. This copolyester synthetic tennis string has a softer construction that may get sensitive if the ball is constantly hit with a greater speed, but it lasts longer if it is not over tensioned.
Mostly the poly tennis strings offer control and spin. Still, Head Sonic, besides giving spin and control, provides some additional power that ultimately makes your game more adventurous and full of fun. And if you call this string an all-rounder, you are right because it focuses on all the main aspects of a tennis string.
Related to Head Hawk Touch Review
Furthermore, this monofilament tennis string is a great offer for intermediate-level players. It balances performance by keeping the opponents off balance and is a little bit livelier than the other poly strings.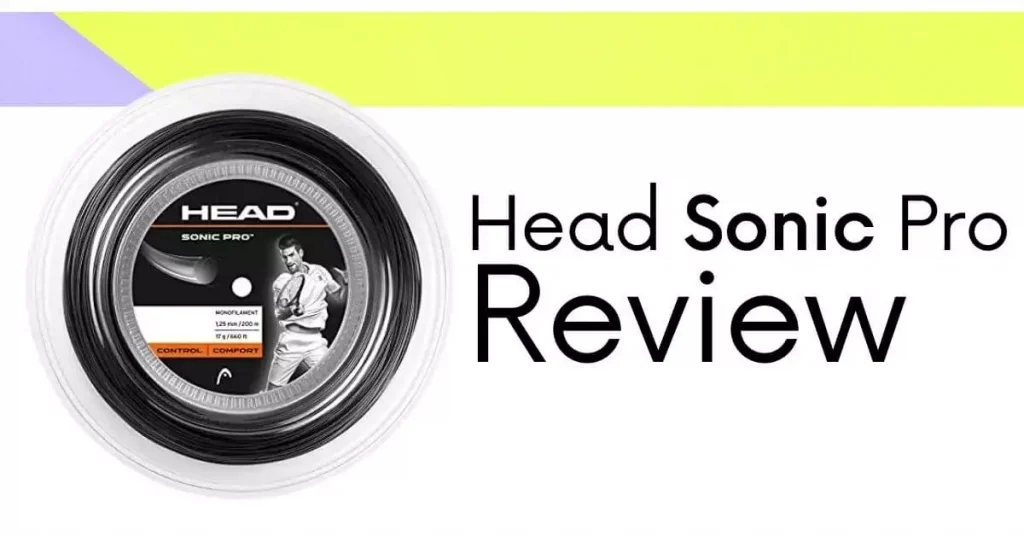 Moreover, it is one of the most spin-friendly strings with a remarkably low stiffness score. This string starts losing its playability before it snaps and has a crisp with a predictable response. The only downside of this tennis string is its firm nature, and beginner tennis players also underpower it.
If you are interested in buying this amazing tennis string, then read this review which elaborates on all features and related aspects of this string. Let's move ahead without further ado!
Head Sonic Pro Review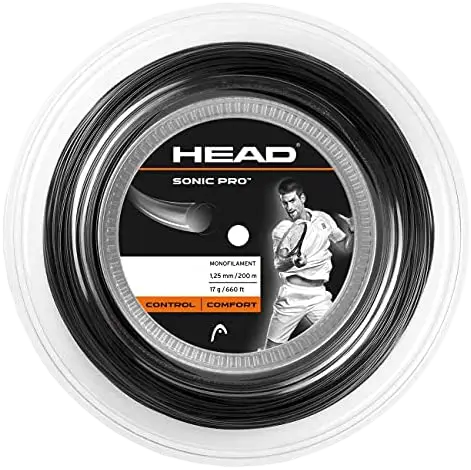 HEAD PERFORMANCE
INTERMEDIATE LEVEL
IDEAL PAIRING
16g & 17g
Best Seller
Head Sonic Pro is a durable tennis string that meets all the needs of your routine intense training sessions. It is a monofilament string that revolutionizes the high trends of the tennis sport. It has a unique copolymer composition with 16 G gauge size and style. It has an amazing touch with an exceptional and ideal balance of comfort and power that should be present in a balanced and control-oriented tennis string.
It also meets the needs of the intermediate-level players because it has a co-poly monofilament string that combines control and power and an amazing speed that helps you enjoy the real joy of tennis. Besides incredible spin, the Head Sonic Pro offers you little more than the other synthetic tennis strings. If you want the standout qualities in a tennis string, go and buy Head Sonic Pro now!
Key Specifications
| | | | |
| --- | --- | --- | --- |
| Color | Black | Suggested Users | Unisex Adults |
| Grip Size | Array | Style | 16 G |
| Product Weight | 400 grams | Sport Type | Tennis |
| Material | Polyester | Length | 660 ft |
| Warranty | 1 year | Dimensions | 8 × 2 × 8 inches |
Features in Detail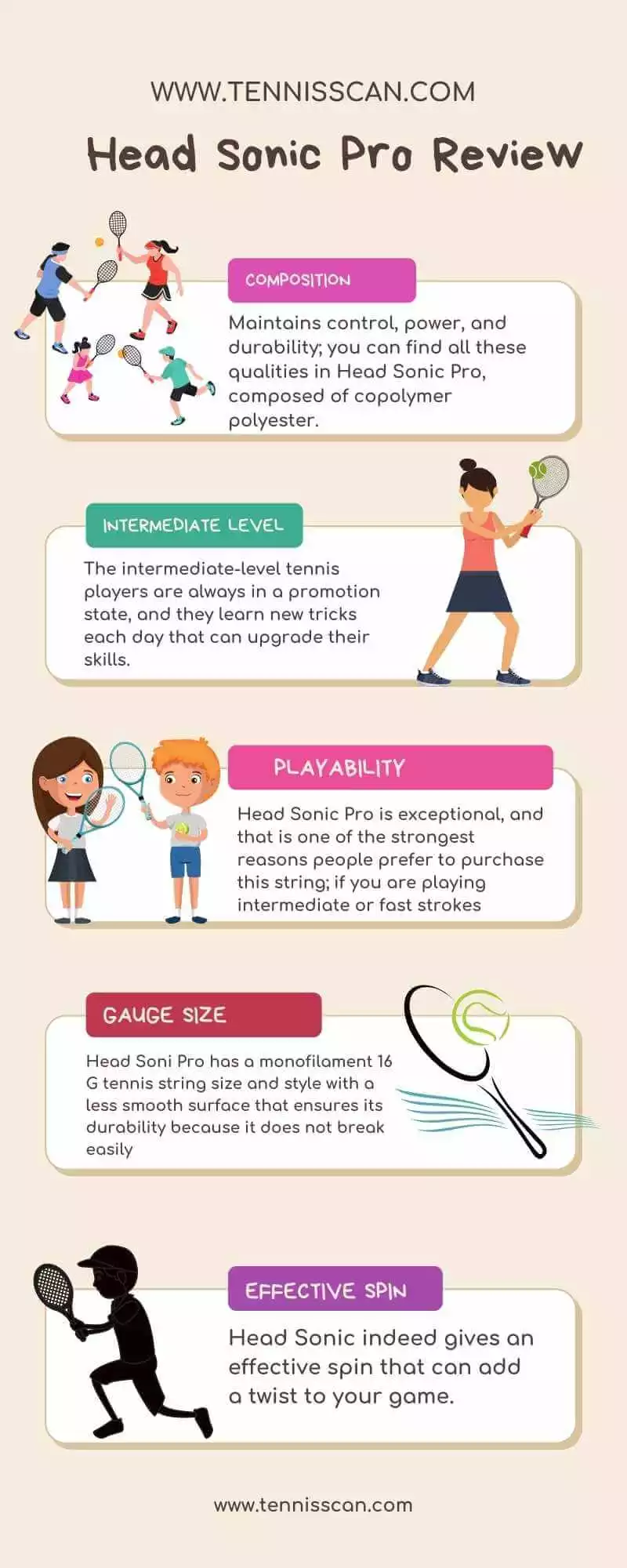 Most tennis players prefer to buy a copolyester tennis string because the tennis string, composed of copolymer polyester, has a softer touch with ultra-durability and restores the power by providing less feedback to the arm of the player. It also maintains control, power, and durability; you can find all these qualities in Head Sonic Pro, composed of copolymer polyester.
The intermediate-level tennis players are always in a promotion state, and they learn new tricks each day that can upgrade their skills. This co-poly monofilament tennis string is specially designed to meet the skill requirements of an intermediate-level player as it combines comfort, power, and control.
If you are looking for a high-powered string, then Head Sonic Pro is not for you because it is seriously an underpowered string, and if you want to generate an explosive swing, you must invest your power that might be painful for you later. But it is quite good for the middle ground, but the control of the Head Sonic Pro is exceptional, and that is one of the strongest reasons people prefer to purchase this string; if you are playing intermediate or fast strokes, then this string will help you to experience an ideal balance between control and power.
Head Soni Pro has a monofilament 16 G tennis string size and style with a less smooth surface that ensures its durability because it does not break easily and has enough power to bear the routine wear and tear, and that is why customers do not complain about its durability because of thicker gauge size.
If you are looking for a tennis string that can hit to give a greater spin, this string is not for you, and you must choose something other, but Head Sonic indeed gives an effective spin that can add a twist to your game.
Pros
Impressive playability
Effective spin
16 G gauge style
Touch, comfort, and power are balanced
Unique copolymer polyester composition

Head Sonic Pro is an amazing tennis string because it is durable due to its copolymer polyester composition with 16 g gauge size and style. Furthermore, it is designed according to the skill level of intermediate-level players as it is a control-oriented string that gives an ultimate joy to the real essence of tennis and is also arm-friendly because of its comfort.

This underpowered string is a little firm, which is one of the downsides of Head Sonic Pro. Get this ideal pairing of instinct and speed and get your own pace on the tennis court!
Frequently Asked Questions (FAQs)
I am looking for an intermediate-level string. Should I prefer Head Sonic Pro?

Head Sonic Pro is an intermediate-level string because it helps to gain a balance between comfort, control, and power which are the main elements of a game for intermediate-level players.

Is this string durable?

Hello, absolutely yes. It is a very durable string with a 16 g gauge size, so players do not claim its durability.

What are the weight and the grip size of Head Sonic Pro?

This string has an array grip size with 400 grams total weight.