Tennis is all about skill even if you are a beginner, you must know what makes your game more perfect, and if you are an advanced club player, you always want more tricks and tips that can help you enjoy an extra edge against your opponent on a court.
If you are also one of them and want more perfection in the game by making the tennis adventurous with a twist, then Head Lynx Edge can help you in this regard. This tennis string is one of its quality with a nice and unique heptagonal shape and has a very decent color of blue. This incredibly amazing tennis string brings power and control simultaneously in the game by giving the tennis ball an extra spin.
The most prominent feature of this tennis string is its unique heptagonal shape that enhances the spin with an extra bounce, making the game more adventurous and confusing your opponents. And the copolymer blend of its material makes it smoother and more comfortable in use and makes it prominent among all synthetic tennis strings.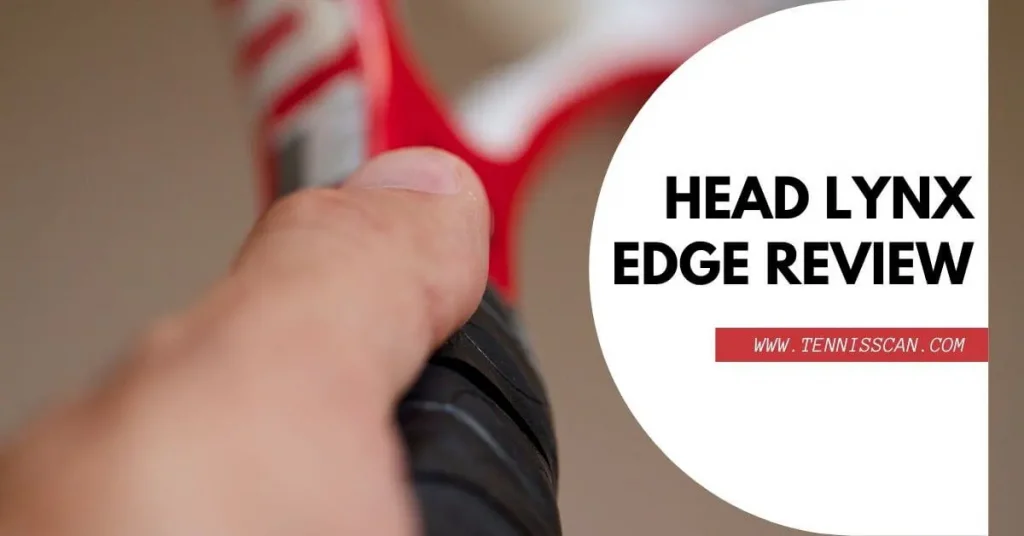 To keep yourself set up, you can enjoy its controlled power that will keep your ball within the premises of the court. With this tennis string, you will find great topspin speed because of its smooth polyester composition.
Furthermore, it gives a good feel with comfort to the arms and hits beautifully every time the ball connects with the racquet with accurate feedback.
Related to Head Hawk Touch Review
Head lynx Edge is a control-oriented tennis string, and without missing the accuracy of feedback and exceptional control, it adds more power to each stroke. So if you are interested in purchasing this amazingly perfect tennis string that helps you enjoy the most comfortable and playful ride, scroll your screens down without wasting a single second to give a read to this informational review that will elaborate on the features of Head Lynx Edge.
Let's move ahead!
Head Lynx Edge is an amazing tennis string with polyester composition. This control-oriented tennis string is an incredible blend of exceptional control, high power, and ideal speed that an advanced club player wants on a tennis court to beat his opponent.
Head Lynx Edge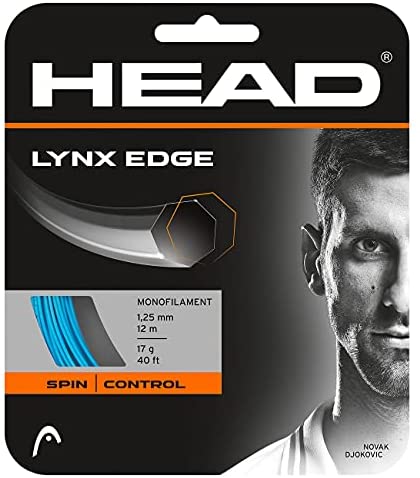 LENGTH: 12 m / 40 ft
GAUGE: 1.25 mm / 17 g
Brand Name: HEAD
Item Weight: 38 Grams
Grip Size: Array
It has a special and unique heptagonal shape that assists the player in giving more bounce to the ball and giving an extra twist to the game with an additional blend of power and control. The string is 12 meters in length with 1.25 mm / 17 g gauge size and 38 grams weight. Furthermore, it gives an additional spin to the aggressive advanced players. So what could be more amazing than this!
Key Specifications
| | | | |
| --- | --- | --- | --- |
| Colour | Blue | String Shape | Heptagonal |
| Product Weight | 38 g | Dimensions | 4.72×3.94×0.2 inches |
| Length | 12 m | Grip Size | Array |
| Suggested Users | Unisex Adults | Playability | Control-oriented |
| Gauge | 1.25 mm / 17 g | Maker | Head |
Check out Tourna Mega Tac Review
Features in Detail
Heptagonal Shape
Head Lynx Edge is a unique type of tennis string because it has a very ideal and unique heptagonal shape that you might not find anywhere in other tennis strings that provide extra spin for advanced level club players and help them rule the court by unlocking their athletic potential.
Length and Gauge
The length and the gauge size and style of a tennis string matter a lot, and the tennis strings are distinguished in their manufacturing based on these two aspects. The length of the Head Lynx Edge is 12 meters with 1.25 mm / 17 g ideal gauge size because it is thinner and considered perfect for the strings.
Topspin
With Head Lynx Edge, you can enjoy the real power of topspin because of its smooth and round polyester composition. The string has enough snap back and bouncing, so if you are hitting the ball with a solid racquet head, you can experience the higher topspin with directional accuracy.
Durability
Maintenance of tension and durability are the main features of a tennis string. Most customers and the players claim that the strings start breaking after a few sets of the games, and players always look for the playability and durability of tennis strings; in the case of Head Lynx Edge, you will find an optimal balance of control and durability and will never complain about the breakage.
Power
Head Lynx Edge is an underpowered tennis string. It offers a bit lower pop off the ground than the other polyester synthetic strings; that is why you will find it comfortable if you are a beginner-level tennis player to play with the ball from each side.
Comfort and Feel
Head Lynx Edge is an amazing tennis string that has enough flex to play comfortably and most conveniently with a very enjoyable and clean feel so that you can take your gaming experience to the next level. Unlike the other polyester-composed tennis string, this has a softer touch with an execute touch and a crisp sound and feel with more control.
Pros
12 meters string length 
Heptagonal string shape 
Highly durable 
Tension maintenance 
1.25 mm / 17 g gauge size
Head Lynx Edge offers you all if you want to team up control and power in the tennis game. This highly durable tennis string has a heptagonal shape that ensures control with its amazing blue color. The most incredible and anticipated gauge size of 17 g is another main reason for the customer's attraction because it is specially manufactured to meet the needs of high skill levels. So what are you waiting for!
Frequently Asked Questions (FAQs)
Can Head Lynx Edge be used with an oversized racquet?

Hello, fortunately, the answer is yes, so you can unhesitatingly use Head Lynx with an oversized tennis string with a weight limit of up to 50 lbs. 

I am looking for a powered string. Is this string gives more spin and power?

If you are searching for a tennis string that can give you topspin and power, then Head Lynx will assist you to enjoy the topspin with a higher bounce, but it is an underpowered string; for this, you have to compromise. 

I am an advanced-level player; which string should I use?

Hey, Head Lynx is designed according to the needs of advanced club players.

What is the Head Lynx Edge?

The Head Lynx Edge is a grip designed to give players the ultimate precision when taking a backhand. It offers 4 levels of thickness, so you can customize it to your finger size. The soft grip material also gives you that perfect feel every time you play.