If you're looking for a way to improve your game and get a better grip on your racquet, then you should definitely try Tourna Mega Tac Grip. This product is designed to help you achieve maximum control and power while you're playing, and it really does make a difference.
I've been using it for a while now and my game has improved noticeably. The tackiness of the grip helps keep your hand in place so you can make those powerful swings without losing control. It's also very comfortable to use, so you won't have to worry about it slipping or causing any discomfort.
Of course, we agree that not every name lives up to reality but where Tourna is concerned, it usually delivers whatever it has promised.
We have previously used how Tourna's Original Overgrip has outdone itself in the market. So, we were pretty intrigued to see how the Tourna Mega Tac works, and luckily, it's worth considering.
Extra Tacky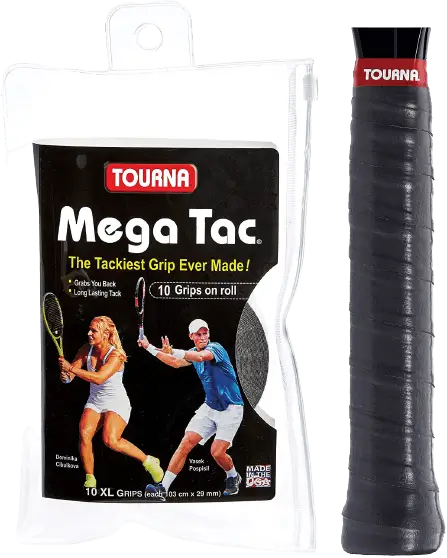 Tourna Mega Tac
Color Black
Material Extra Tacky
Brand Tourna
Item Weight 0.1 Kilograms


MADE IN THE USA HIGH PERFORMANCE GRIPS
We are not really a fan of tacky grips. So, while we were assessing the Tourna Mega Tac grip, we had to put ourselves in the shoes of someone who really values tac. In our experience, the Tourna Original Overgrip is an excellent pick for someone with sweaty hands whereas the Tourna Mega Tac has a completely different target market.
We think the tackier a grip is, the more it becomes slick when you play and your hands perspire. We don't think the Tourna Mega Tac would be a good option for people whose hands sweat when they play.
Read More About: Is Tourna Grip XL Good?
It is far more comfortable than the Tourna Original Grip. We are always looking for comfort over everything else but we were also hoping the Tourna Mega Tac will also ensure maximum sweat absorption. It allows the player to be more confident about their grip so they do now the tennis won't end up flying out of their hands on the court.
When we first decided to try out the Mega Tac, we weren't expecting the grip to be just as tackier as the brand claims. But turns out, that Tourna has literally made it the tackiest grip on the market so there are no questions there.
But the real question is if the tackiness of this grip is safe for playing? Or is it going to blow my favorite Pure Strike off of my hands down the court?
Let's find out below,
Longevity
Tourna has ensured that this grip will maintain its tackiness for up to 14-hours. Now that is incredible and unlike anything, we have ever seen before.
The longevity aspect of Tourna Mega Tac is pretty impressive and probably one of the reasons why we recommend it to a number of players. If you happen to be someone whose hands don't sweat a lot when playing on the tennis court, then this would be a really good option for you to go with.
We have tested it by putting the grip on for 7-days consecutively and found out that for the first 10-hours, the tac of Tourna Mega Tac remained at a fixed level. After 10-hours, the grip began to shallow but that was okay.
Given it still works well for 10-hours straight does make the Tourna grip worth considering.
Thinness
The Tourna Mega Tac features a very lightweight and thin fabric that gives you a lot of options. Those players who would like to feel their rackets closer to the skin are really going to enjoy wearing this grip.
You also get the option of padding the grip out in case you want a thicker grip. The grip might be thin but it still absorbs plenty of vibrations so the player can have maximum control over their servers.
We would suggest that you do add an extra pad underneath to make your hand feel more secure. It will allow the grip to absorb shocks on a much higher level while keeping providing maximum support for you to pull your game off.
If your major criteria for buying a grip involves maximum thinness and loads of tac then Mega Tac Grip has got you covered.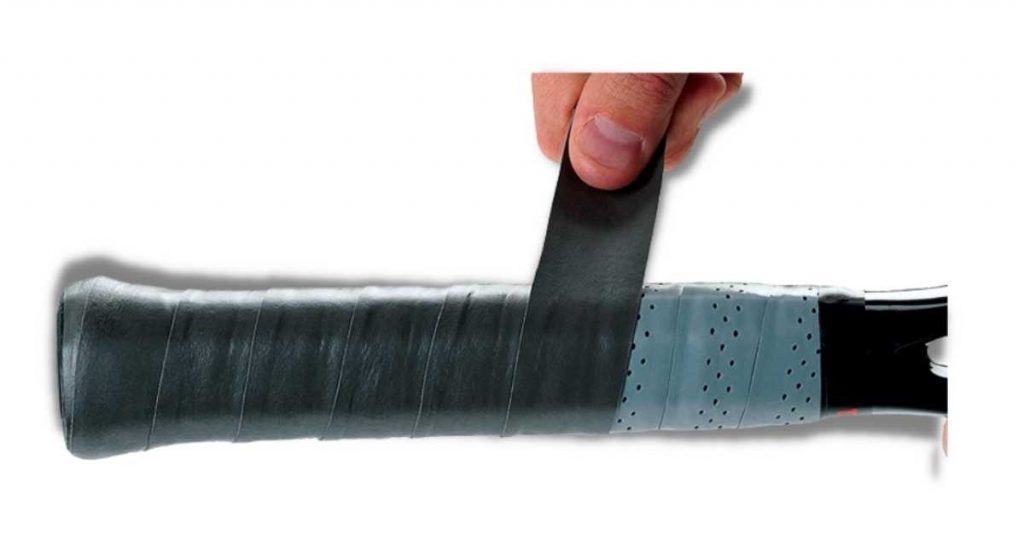 Absorbency
This is the part where we always encounter problems with tackier grips. We don't know if it is just us but when it is hot outside, the tack becomes too slick that makes us fear we will lose grip on our racket and end up making a blunder out of the entire game.
When you're playing professionally and you're poured deep into a match, the last thing you need is to worry about whether you will lose grip over your racket or not. This is the fear we found with the Tourna Mega Tac.
Ultimate Guide To Tennis Overgrips
We know that there are several players out there who play with tacky grips but we think that maybe they don't sweat a lot when playing or they might have a different kind of a sweat.
Absorbency might not be an important feature to consider when buying a tarmac grip but it is still there. if that is something of concern to you then Tourna Mega Tac shouldn't be a grip for you to consider.
Pros
Better longevity
Available in different colors
Comes with 10 grips
Easy to apply
Cons
Not recommended for sweaty hands
Increases your grip size slightly

As far as tacky grips are concerned, the Tourna Mega Tac is a sure winner. However, we are also off the view that this grip gets way too slippery for the majority of people which may be slightly concerning. But then the fact that the brand has already come up with the Tourna Original indicates the non-slippery side of the gripping domain has been taken care of.

There are various players out there who enjoy playing with tackier rips and then this is highly recommended for them. While it doesn't really absorb your sweat, its longevity and thinness are truly on point.

In our case, we are not going to stop using the non-slippery grips because that is what our style is. But if there is one grip that has convinced us that tacky grips can also prove to be an excellent choice, it surely is this one.

We will rate it as 4.5 out of 5. The overall durability is topnotch plus the price is also very reasonable. So yes, if you're looking for the tackiest grip of all, you just found your match.
Frequently Asked Questions
How does Tourna Mega Tac Grip help me?

Tourna Mega Tac Grip can help you in two ways: it strengthens and protects the hands, fingers, and wrists. It also provides a stronger grip for racquet sports by reducing wrist motion so that your swing speed is faster.

What are the benefits of the Tourna Mega Tac Grip?

Tourna Mega Tac is the latest innovation for a performance grip. The Tourna Mega Tac offers all the benefits of a classic Tourna Grip with the added benefit of tacky residue that ensures durability and grip.

How does Tourna Mega Tac Grip compare to other grip tapes?

The Tourna Mega Tac Grip is made of an exclusive, soft, and tacky material that provides the ultimate level of comfort and control. It features raised T-shaped ridges that provide exceptional grip in all directions, even with sweaty or wet hands.

What is the warranty on your Tourna Mega Tac Grip?

All Tourna products ship with a two-year warranty.