Tennis is a game that welcomes club players and has enough room on the court for beginner and intermediate-level tennis players. But it is also true that highly efficient club players have their own pace of the game, and they always try to make their game more intense.
They must have a nice tennis racquet and a fine but strong tennis string, right?
If you are also looking for a tennis string that meets all the needs of being a tennis champion, then Head Hawk Touch should be your preference as its solid construction and high-strength string quality never disappoint you on a tennis court as the innovative crystal core technology makes this string the most popular among all with the assistance of which the players can enjoy an exceptional blend of both force and grip. 
This tennis string's advanced and unique composition allows the Head to control the molecular crystal structure within a monofilament string. Although the monofilament feature of this string might be questionable for the customers, the main thing in this perspective is the crystal core structure that compensates for the strength usually gained from the multifilament construction. 
Furthermore, this amazing polyester tennis string has highly structured molecules that give stiffness along with the speed and power to play. The string has enough elasticity, which is why it helps you to experience the best tennis game of your life as it bounces the ball with accurate feedback every time beautifully it hits the racquet so that you can control every stroke of the game and can get an additional edge to secure maximum scores.
Head Synthetic Gut PPS 16 Review
If you are interested in buying this incredible tennis string, then give read this informational review that will illustrate every single feature of Head Hawk Touch to you. Let's scroll your screens down!
Head Hawk Touch – (Best Tennis String with Crystal Core Technology)
Best Tennis String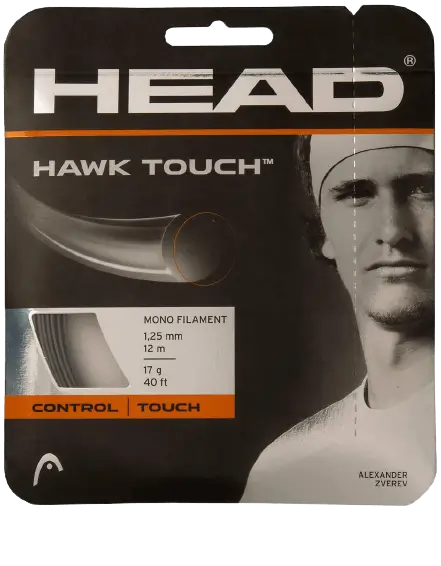 Length: 12 m / 40 ft
Crystal Core Technology
Monofilament
Durable Hawk Touch
40 grams
Tennis string is all about strength, power, control, and feels, and if you are also seeking all these aspects in a racket string, then Head Hawk Touch offers you all. The ideal crystal core technology with the monofilament construction gives ultimate stiffness to the string and ensures its durability. This tennis string is specially designed for the tournament and highly skilled club players.
The string has a total length of 12 meters with 1.15 mm / 18 G, 1.20 mm/ 18 G, and 1.25 mm / 16 G gauge style and size all depend on your preference but remember smaller the gauge size thicker will be the string, and larger the gauge size thinner will be the tennis string. Besides giving a higher bounce to the ball with accurate feedback, it exhibits monofilament wrapping that gives maximum control and grip to the player. Buy this excellent string now!
Key Specifications
| | | | |
| --- | --- | --- | --- |
| Material | Polyester | Length | 12 meters |
| Crystal Core Technology | Available | Suggested Users | Unisex Adults |
| Coating | Monofilament | Grip Size | Array |
| String Type | Monofilament | Colour | Anthracite |
| Playability | Power and Control | Product Weight | 40 grams |
Features in Detail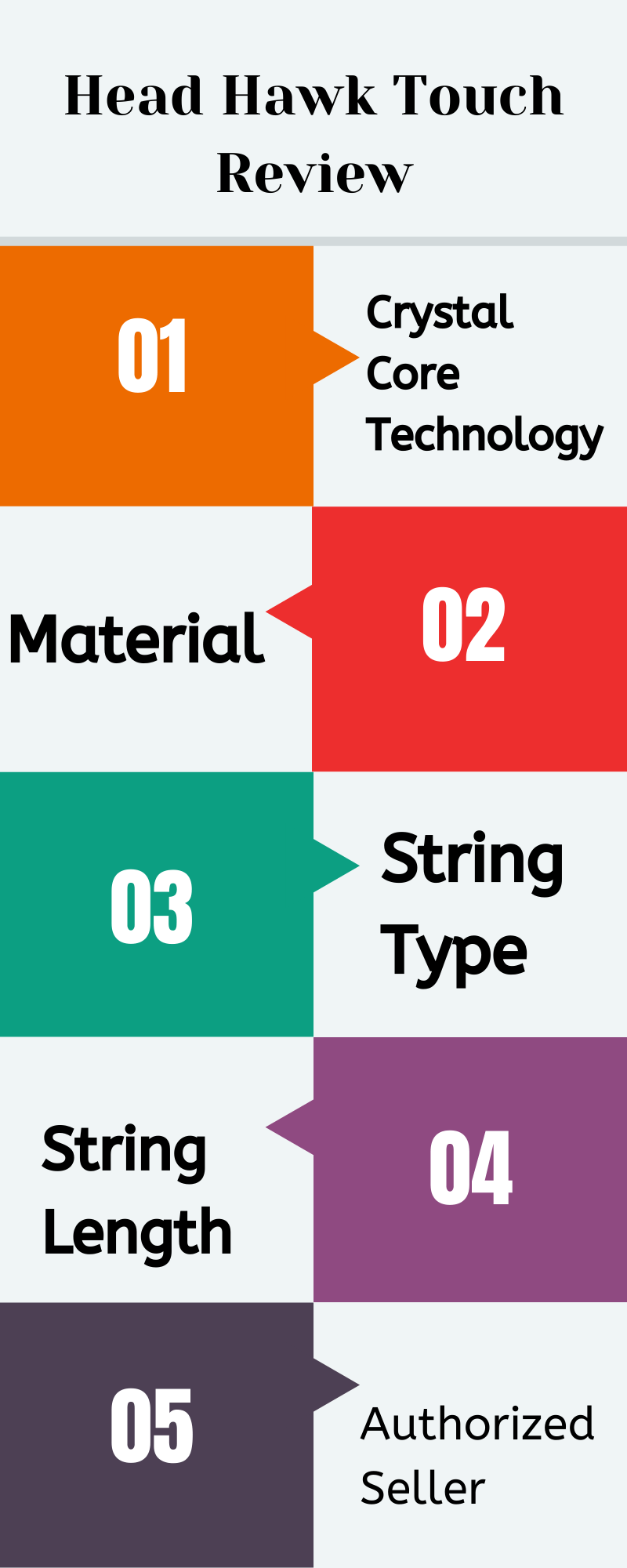 1- Crystal Core Technology
Crystal core technology is an innovative and unique string manufacturing process that utilizes co-polyester strings' complex and multistep heating treatments. Head Hawk Touch tennis string is designed with this technology that gives it more stiffness and control by unlocking the playability, but you have to compromise with its less power.
2- Material
Polyester is one of the most popular materials to manufacture synthetic tennis strings. These strings are specially manufactured in different shapes for intermediate to high-level tennis players that need power, spin, durability, and control simultaneously. Because of the control-oriented nature of Head Hawk Touch, it is used by pro tennis players.
3- String Type
Head Hawk Touch has a monofilament string type as they are made with the single exclusion of the material, and in the case of Head, this material is polyester. It is considered best for advanced-level players due to its strength and control-oriented properties.
Check out Head Lynx Edge 17
4- String Length
The string length in the case of Head Hawk Touch tennis string is 12 meters and has a gauge style and size of 1. 15 mm / 18 g, 1.20 mm / 18 g, and 1. 25 mm / 16 g, so if you want a thicker tennis string that can bear the weight of your heavy ball then go for the 16 g gauge size otherwise choose the most demanding 18 g gauge style and size that is the most popular among all higher-level tennis players and surely you will notice an improvement in your spin too.
5- Authorized Seller
Head Hawk Touch is a product of the Head brand. That is why you will never complain about the quality as the brand has authorized dealers and has a warranty applicable according to their warranty policy with 100% genuine products.
Pros
Durable 
Crystal core technology 
18 g and 16 g gauge sizes 
Monofilament structure 
Provides high control
Perfect for advanced levels 
Polyester composition 
Cons
Customers claim that it is an underpowered string 

Head Hawk Touch is a durable tennis string that balances power and control and is one of the best polyester strings with crystal core technology. Although customers claim its comfort and feel it gives them a chance to rule the tennis court with its exceptional quality. Besides a unique blend of control and classical spin, it has a monofilament string type. So what could be better than this?
Frequently Asked Questions (FAQs)
I am looking for a tennis string with greater control. Should I prefer Head Hawk Touch?

Yes, no doubt this string has less power but has enough control, and this is one of the strongest reasons you must choose Head Hawk.

Does Head Hawk provide a soft cushioned feel?

Unfortunately, if you are seeking a softer feel, Head Hawk can not give you that touch because it is not made of nylon.

I always break the tennis string. Should I prefer to use Head Hawk to resolve this issue?

Hello, it is tiresome. This Head Hawk Touch string will be the most durable solution if you are constantly breaking the tennis string.

What is the Head Hawk Touch Grip?

The Grip was originally designed in the early 1990s to improve grip strength, whereas the Twist has been developed to help reduce tennis elbow and wrist pain. The Grip also helps alleviate stress on the joints of your hand while increasing your grip strength.