The tennis court is the only zone of hostilities where the slightest edge can turn the direction of the game. Therefore, using the right tennis racket is more crucial than anything else. But choosing the one between the fiercest rivalries, the Head Radical MP and Pro, is such a confusing task. Both of these rackets are outstanding and one of the best-selling tennis objects in the market.
In more precise words, one is great for power, the second can provide more accurate shots, one can help you smash the court, and the second can fool your opponent with magical spins. You might find both of them suitable but for sure you need to understand the difference to select according to your gaming type. Here I will tell you my experience, how these rackets can create a great difference and you can conclude which one is better.
Head Radical MP Vs Pro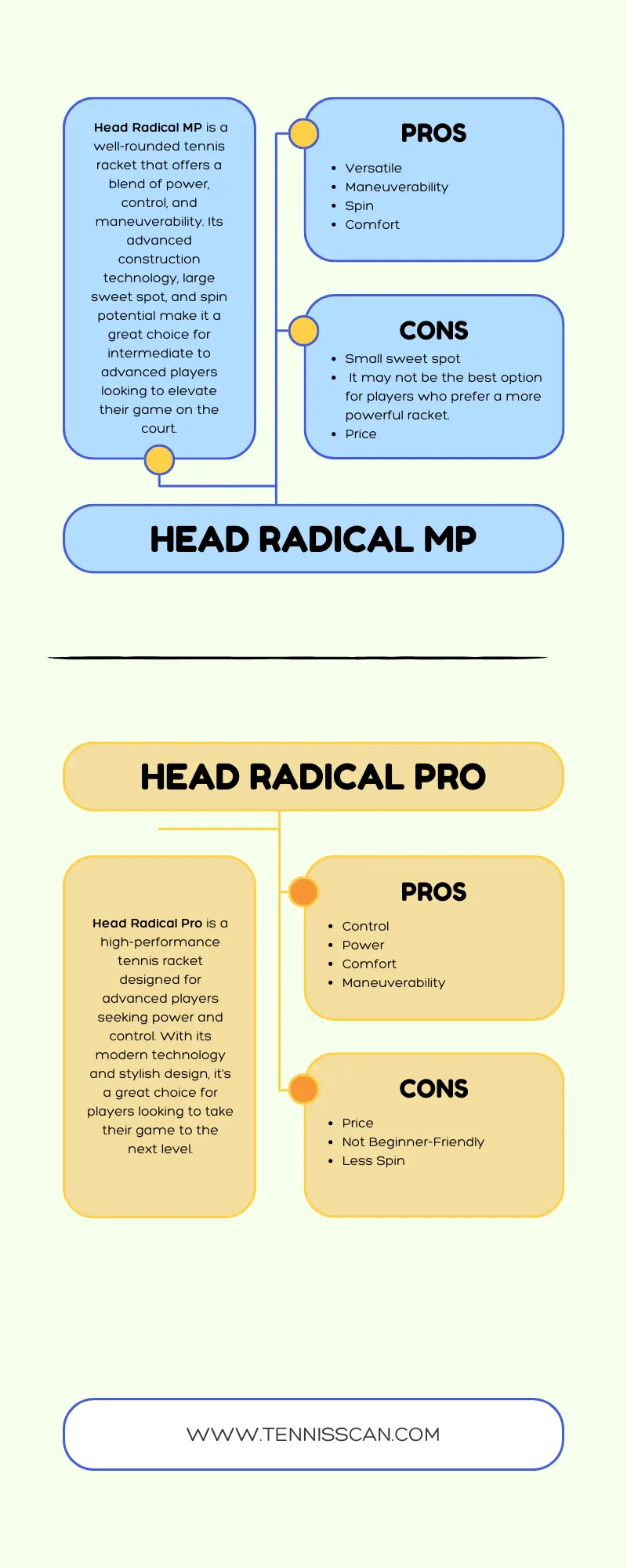 I have been using the Head Radical MP and its competitor for years. It is true that both rackets are more than amazing. But you should know that there are major differences between them.  Plus, there are other factors involved whether you are a beginner or searching for the racket for aggressive gaming.
As well, you should also consider why you need one, if you want the racket for practice, you can have any one of them because both of them will provide you with nonplus performance and you will learn something different whether you use MP or Pro. Anyhow, I will cover both aspects and the conclusion will be up to you which you should choose.
Why I Order And Why I Decided To Buy?
The story begins when I started playing tennis and joined a domestic club. Multiple professional and advanced tennis players used to come to tell their sports secrets. At that time I brought a local quality tennis bat for learning because I was a beginner. But as I progressed I understood that I needed rackets suggested by those professional players. However, it was confusing to select which one suits me.
Well, I purchased a few better-quality rackets but they were not satisfying. The urge to get the best racket was still there inside me. Plus, my growth in the sport suddenly stopped because of testing and shifting from one racket to another. Well, after searching for days, reading reviews on different tennis bats, and consulting with experts, I came to know about these golden tennis rackets, the Radical MP and Pro.
Like you, It was also hard for me to pick one of them but instead of being judgemental, I brought both the MP and Pro to find which one is best. First I started with the Head Radical Pro and it amused me for a few months, then I shifted to the second tennis racket and concluded which one is better than the other.
What We Expect When I Receive The Delivery?
I thought that there would be a large package at my door steps and when I unbox the rackets, I would have two extra large and wider bats than normal tennis bats. I expected the shining frame, vivid string, and comfy grip rackets with tightly strung and balanced weight body. As far as the concern is premium grade rackets, everyone expects an object which will have slightly different looks as compared to the local rackets.
When I saw the package, it was not large enough. Both rackets came in different packages and each was packed in a 25 to 30 inches long box. Anyway, the objects inside the box almost matched my expectations. One had a bit wider sweet spot, the MP, and the second had a wider grip, the Pro. As well, both had vivid strings and comfy grips. At first, I could not find the difference between them but later when I played, I realized the difference.
What Are My Reviews After Using The Products?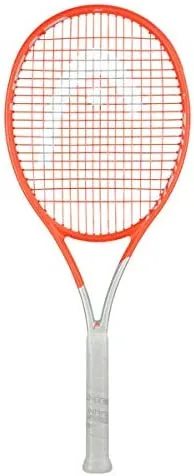 As I have mentioned before, I had zero experience in tennis and these were my first premium-grade rackets. In more appropriate words, I started my career with these two: the Head Radical MP and Pro. However, I chose Pro for the first time and tested the tennis bat for almost three months. The racket was completely fine but there were a few problems with it.
First, it had a slightly small sweet spot of about 93 inches, so I needed more power to hit the ball. If I wanted to hit the ball at full pace, I needed to use all the shoulder muscles. Second, the Pro model is a bit heavier than the MP version. The average weight of the Pro is approximately 11.7 ounces, on the other hand, the MP version is 10.4 ounces. You might think that there is no effect of weight but it does not work in this way.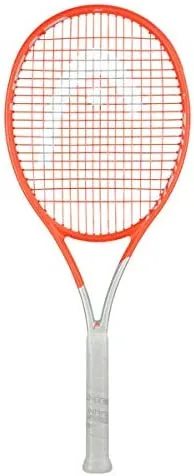 A slightly heavier racket increases fatigue and one needs a bit more power to lift the bat. Plus, heavier rackets do not provide more spin and if you want to bounce up, you need to apply extra energy. Additionally, the Pro version is a bit heavy, that's why I could not use it for maneuvering.
Another great difference between these two tennis rackets is the pattern of strings. Head Radical MP has a 16×19 string pattern, it is the ideal string pattern for more spinning and increasing the power. Let's put it simply with MP when I used to hit the ball with the same energy the ball goes faster and bounced up more as compared to Pro. As well, MP provided a larger and wider sweet spot hence I could reach distant shots more easily than the Pro version.
On the other hand, the Head Radical Pro was good but not as great as the MP version. It has an 18×20 string pattern, as a result, you can have more control but not power. The bright side of the Pro racket is that you can effortlessly hit the ball on the target spot because, in terms of accuracy, it has no match. Anyway, I will vote for the Head Radical MP because it is lighter, bigger, more comfy, balanced head and wide sweet spot.
Why Do I Recommend The Product?
There are many reasons to vote for the Head Radical MP, you have more power, you can carelessly maneuver and you do not need to worry about spinning. I have used both of them and no doubt the Head Radical MP is better than the Pro model. You can also say that it is the upgraded version of the Pro.
Well, you should pick up the MP because it is easy to use and if you are a beginner, you need more reach. The racket has a 16×19 string pattern, and you can reach the ball from a distance. The MP version has a versatile design, every level of tennis player can use it whether he is an advanced player or learning to manage the bat. Anyhow, all these major reasons and the other minor factors are significant to consider.
FAQ'S
What is the difference between head pro and mp?
There is a list of differences, in terms of size, the MP has a wider center point. Moreover, Pro is a bit heavier and good for control but MP provides more spinning power and better bounces.
Do any pros use head radical MP?
Yes, Sloane Stephens uses the Head Radical MP.
Conclusion
You cannot end the debate of Pro vs MP but you can conclude on the basis of features which one is the best. In my experience, the MP is better, it provided me with more power and I was able to spin the ball easier than the Pro model. As well, playing with Head Radical MP was more fun as compared to Pro. However, I have explained the comparison I have experienced. Now, it is up to you whether to choose Head Radical Pro or MP.